Fernie Alpine Springs is a beverage company located in the mountain town of Fernie BC, owned and operated by globetrotting duo Ami Lee and Simon LeFrançois who settled in town in 2015.
Ami and Simon share a passion for flavour, which has taken them to live in places as far as Dominican Republic, Madagascar and Tunisia. Their travels have been marked by discovering new ways of producing food and drinks, including kombucha, a probiotic-rich fermented beverage. The couple returned to Canada in 2013, initially settling in Quebec and then moving to the Kootenays two years later when Simon got a job doing environmental monitoring for Teck's mining operations in the Elk Valley. That's where the couple started brewing premium quality sparkling kombucha.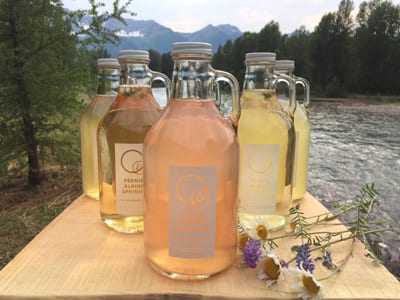 Fernie Alpine Springs produce kombucha that's different from others that you may have tasted, because the product comes from a very scientific place. The process is precise, the taste is consistent and, unlike other kombuchas, they suggest it is served in Champagne flutes. One taste and it is easy to see why. The flavours are subtle and some are brewed with local Kootenay produce including huckleberries, spruce needles, rhubarb, juniper berries, rosehips and lavender. The bubbles are playful just like a good Champagne. Quality of water is of primary importance to the final product and Simon believes the pristine mountain water he is working with in the Elk Valley is the best water he has ever tasted.
The Kootenay region is a perfect place for food and drink businesses to develop and grow. Simon and Ami sell their kombucha both within Fernie and the extended community. Simon commented, "There is a real interest in locally produced products but they have to be good quality. In Fernie we are lucky to be part of a growing movement of foodies and the town is beginning to get recognized for the products that are produced and can be bought here."
Ami continues, "There are so many options here that most people can find their place. The lifestyle is amazing and it's a wonderful place to raise children. Good business ideas are welcomed with open arms and the supportive, collaborative nature of other business owners makes it easier to find the motivation to push ahead. If you want to make the change and get out of the city, find your niche and passion, focus on quality and your hard work will be rewarded here in the mountains."