The Uphill Bakery in Nelson
The Uphill Bakery is a well-established, home-based business. Serving customers in Nelson and the surrounding area for over 2 decades, this community institution is focused on one of life's staples: bread. Made in small batches and using only organic ingredients, the Uphill Bakery's breads have become a tradition in this small mountain town. Delivering to retail outlets and restaurants in the community, the bakery's bright orange "ELF" electric tricycle is a familiar sight on Nelson's streets. This is your opportunity to own a turn-key business in the West Kootenays!
The revenue stream is made up of retail sales at 4 outlets as well as wholesale supply to a variety of restaurants, cafes, schools, etc. Included in the sale is all equipment needed to produce the product: Baker's oven, mixer(s), scales, trays, forms, pans, pails and containers. Marble baking table and flour storage bin as well as cooling racks are also included. The electric-assisted "ELF" delivery tricycle with custom-made aluminum trailer can be included if desired.
Asking price: $29,000 with ELF; $25,000 without ELF
This is a fully licensed home-based business and as such, the facility itself cannot be sold.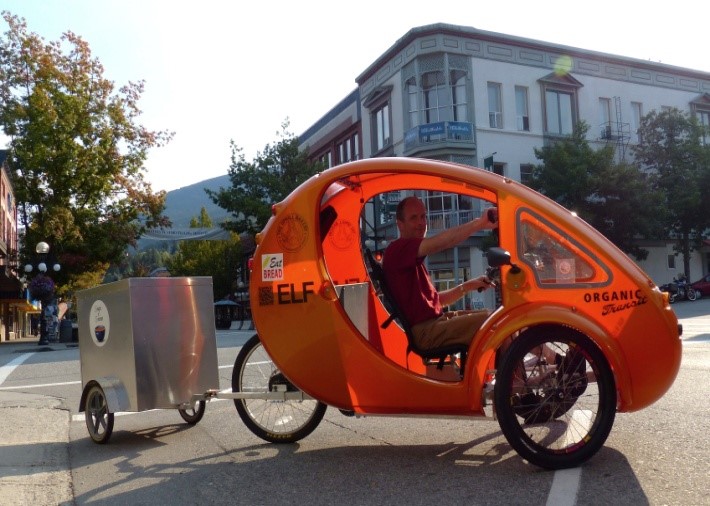 Our signature Light Rye, baguettes, and multigrain breads make up the bulk of sales. Par-baked frozen baguettes, in various sizes and shapes, are sold at the retail level and to cafes, restaurants, schools and caterers. Our Light Rye rolls are a staple at several locations during soup season.  Long-standing customers include:
The Kootenay Coop Country Store,
Oso Negro Café
Pitchfork Bistro
Evergreen Foods, Crescent Valley
Burrells Grocery
Ellison's Market