Just Imagine. The Soothing mineral waters found in the Kootenay hot springs have been long known to have healing properties. Soaking in the hot, mineral rich waters has been attributed to alleviating symptoms of arthritis, psoriasis, insomnia and fibromyalgia. But the one undisputed benefit is that it melts away the physical and mental stresses of everyday life. Living in the Kootenays is special.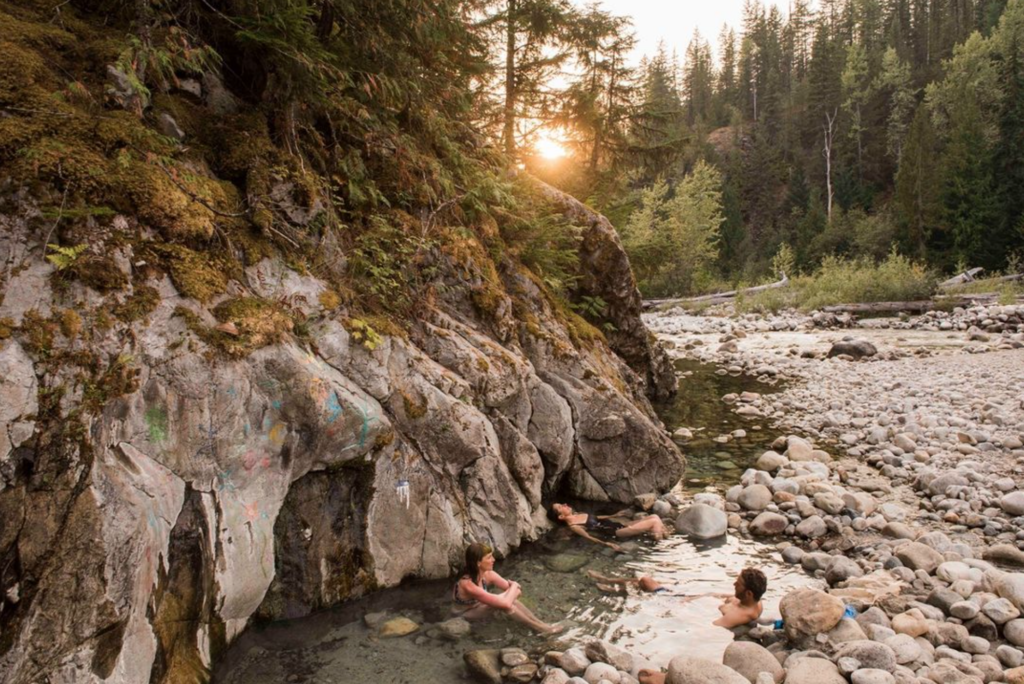 Photo by: Kari Medig of the Halfway River Hotsprings near Nakusp
The Kootenays is home to several amazing Hot Springs. Being a local means knowing where and when to go for the best experience. Part of the Kootenay lifestyle includes working hard, playing hard and also relaxing hard. Some of the most popular Hot Springs in the area are listed below:
Ainsworth Hot Springs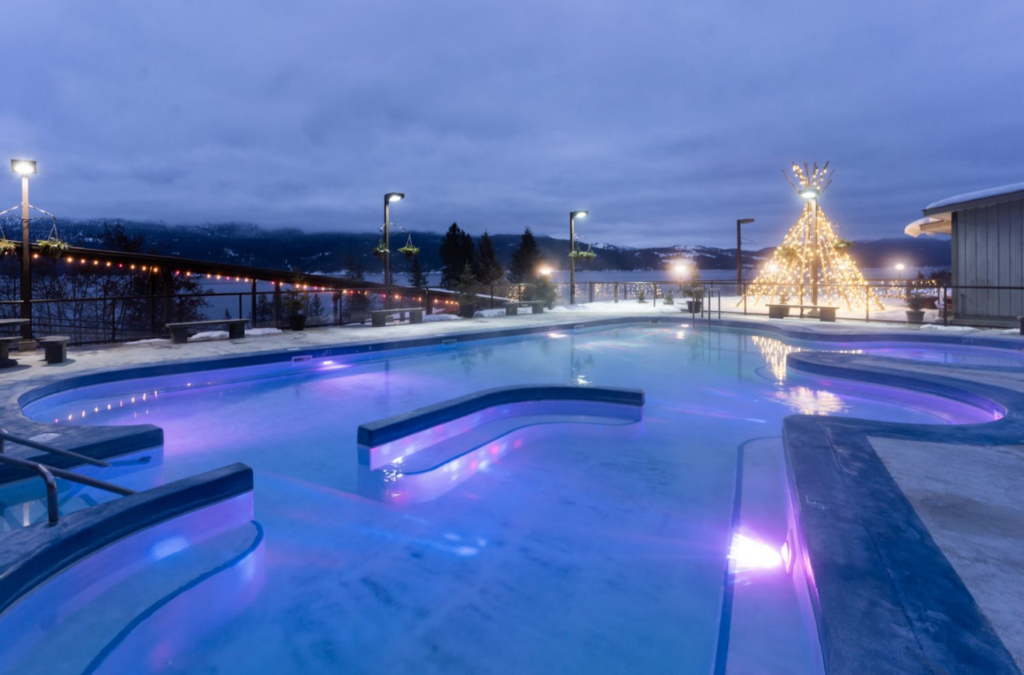 Ainsworth Hotspring is found on the North Shore of Kootenay Lake near Nelson. It is known for it's cave pool, providing a unique experience for visitors.
The sky and mountain view while sitting in the pools or while dining in the onsite restaurant is spectacular.
Accompanying the hot and warm pools is an ice cold plunge pool, used to improve circulation, fight inflammation and improve athletic performance.
Photo by: Mitch Winton of the Ainsworth Hot springs Near Nelson
Fairmont Hot Springs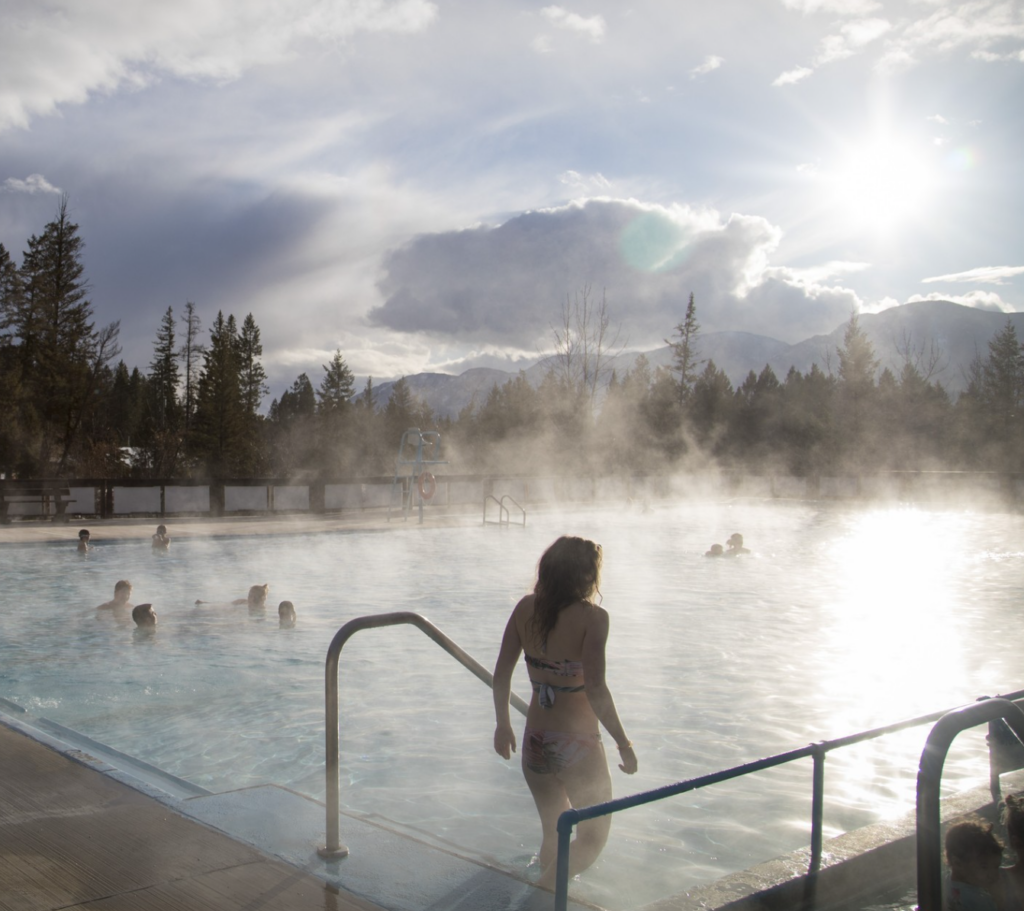 Fairmont Hotsprings in Columbia Valley is Canada's largest natural hotspring, and has over 1 million gallons of fresh mineral water circulating through the pools each day.
The property also has cold plunge pools, saunas and a steam room.
There are annual memberships for locals and their families that are impossible to beat, allowing residents to incorporate time in the water into their health routine.
Along with family friendly pools there is a hot rock pool and a private area for members.
Fairmont in a resort and has all of the activities and amenities you would expect including several food and beverage places on site to grab a coffee, lunch or dinner. For more information: www.fairmonthotsprings.com
Photo by: Zoya Lynch of the Fairmont Hot Springs
Radium Hot Springs
Just down the road from the Fairmont Hot Spring in Sinclair Canyon is Radium Hot Spring.
There are two pools set against a large rock wall, which creates a unique soaking experience. During the winter the stone is covered in snow and frost, making the experience even more magical.
On the other side of the main building is a cold pool for swimming, making this an excellent family friendly, all-season experience.
The drive to Radium itself is magnificent. Just another reasons why life in the Kootenays is unbeatable. For more information: https://www.radiumhotsprings.com
Photo by: Kari Medig of Radium Hot Springs
Halcyon Hot Springs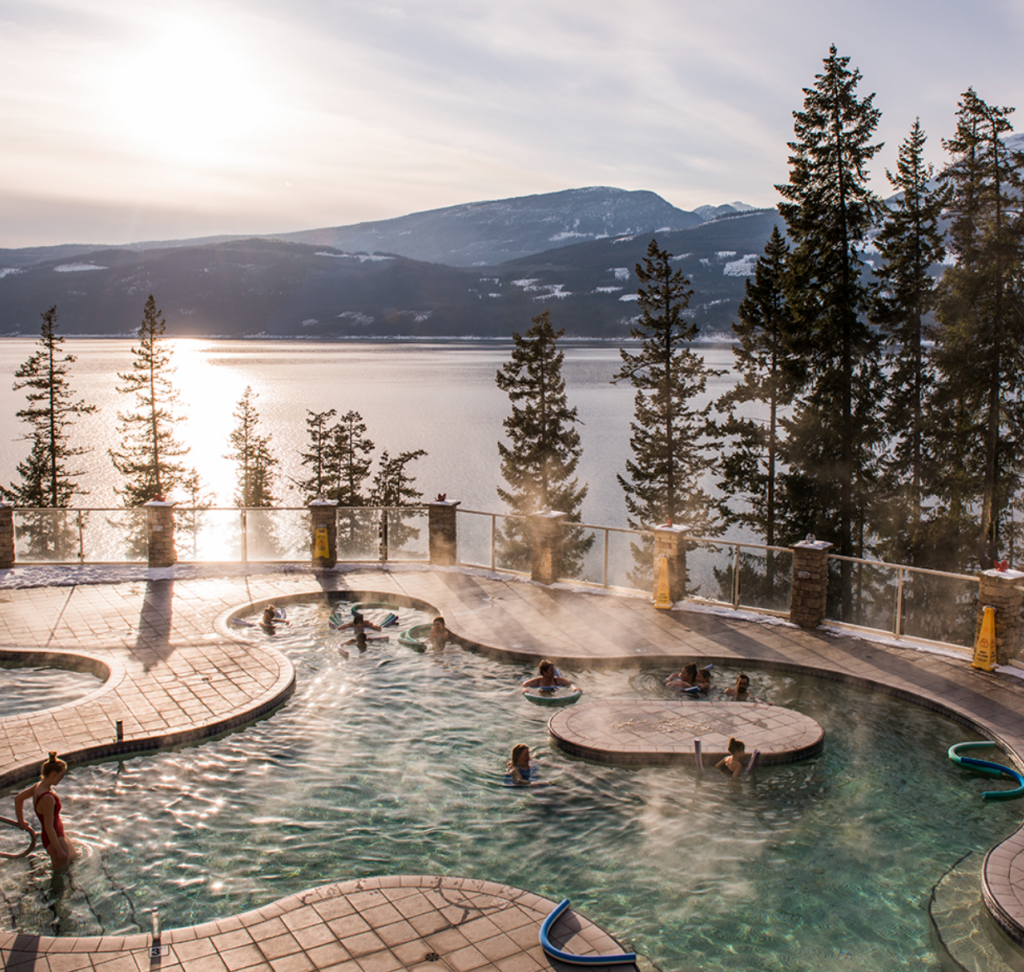 Known for it's purity, Halcyon is so clean it can be bottled and drank. Just outside of Nakusp, Halcyon has a potent mineral complex with the highest level of lithia in North America, and has helped to sooth symptoms of muscular, nervous system and digestive disorders.
Halcyon is a family friendly Hot Spring, with a splash pad for the children, and quiet soothing pools with great views for the grown ups.
Locals enjoy soaking out under the stars after a long days work, or chatting business with friends while enjoying the healing waters.
The waters at Halcyon have a special attribution of helping patients who are suffering from brain injuries and neurological disorders like Parkinsons disease and Alzheimers.
Views from Halcyon never get old, changing with the seasons, the experience is nourishing to the mind body and soul. For more information: www.halcyon-hotsprings.com
Photo by: Mitch Winton of the Halcyon Hot Springs
Nakusp Hot Springs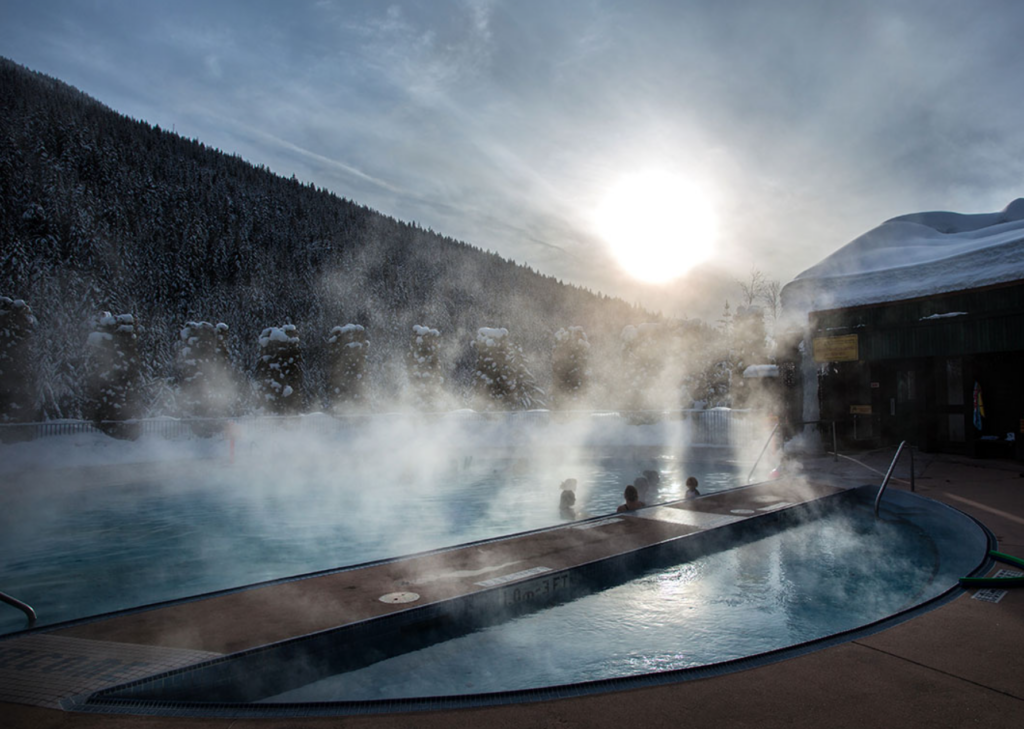 The hidden gem of the Kootenays, Nakusp was once only accessible by trail. Now, the nakusp Hot Spring is not only accessible by trail but also by vehicle.
Nakusp is a quiet, secluded Hot Spring enjoyed by many locals for this reason. Having guests stay in the area? Nakusp Hot Spring now has cedar chalets on site.
For more information: https://www.nakusphotsprings.com