Kootenay Meadow Farms, formerly Kootenay Alpine Cheese, is a multi-generational, certified organic, grass-based farm located in Creston, British Columbia. Their business is a truly powerful example of the potential for sustainable local agriculture.
Denise and Wayne Harris, stewards of Kootenay Meadows, originally met at Olds College in Alberta; a historically-known agriculture school. After being happily wed and finishing college, Denise moved to the Creston Valley with Wayne to operate the family dairy farm. Three children and over thirty years' later, the Harrises have developed an evolving, niche business.
The decision to expand started in 2007. To showcase their high-quality organic milk, the Harrises decided to produce raw-milk cheeses… and high quality is no under-statement. The careful management of their family farm has always been a focus. They are certified organic, use no pesticides, GMO's or chemical fertilizer on their land. They nurture and replenish the soil through many sustainable management practices. The health of their herd is maintained following organic practices, with no hormones being used. This careful management is evident through pride and the quality of their product.
Being farmers first, expanding their business was not an easy transition. Having capital in the existing farm was certainly helpful. A proven track record with Farm Credit Canada allowed them to borrow funds for their growing business. Hiring a dairy consultant to help develop their recipes and teach new practices was extensive, but needed. Like many expanding entrepreneurs, it was a huge learning curve. However, there came much appreciation and great reward for dedicating time and energy to the process.
Today, the Kootenay Meadows brand has expanded further to produce bottled, certified organic milk; which has been very popular and sustainable in the Kootenay region for several years. Their cheese line continues to flourish to a nationwide market; but mostly in British Columbia and Alberta. Their biggest distributor is Lekker Food Distributors, who distributes to many restaurants on the Island – gives the Kootenay Meadow product a lot of exposure in bigger centers.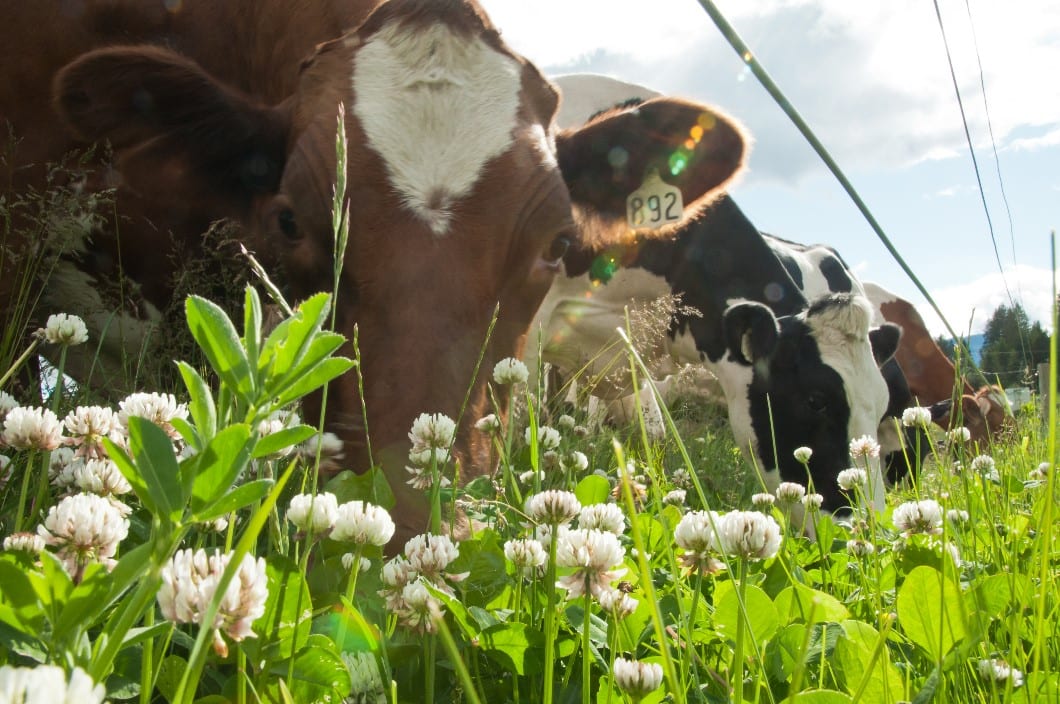 Their success is not attributed to becoming larger; it's about remaining small. Having the opportunity to sit with Denise Harris, she describes what it's like to do business in the Creston Valley.
"A true artisan is a single herd; like ours. Some artisans are organic and some are not. Being a local producer is most important to people because they know what's in the product and where is has come from."
Every spring, Kootenay Meadows invites the public to their Spring Turn Out to witness the 'ladies' cavorting on their first spring outing. "We don't necessarily host the Spring Turn Out to give back to the community; it's more to include everyone. We want it to be everybody's fun," shared Denise. In regards to giving back, Kootenay Meadows gives to anyone who is in need. "It's truly a win-win for everyone," she said. Currently, Kootenay Meadows gives milk to Adam Robertson Elementary's breakfast program and to TAPS for seniors. They do not charge for school tours. "Children and seniors are very important to us and our community."
Advice for entrepreneurs and investors – "A niche market is ideal," said Denise. "More specifically, a niche market within agriculture. There are so many of the same pop-up businesses. Having hubs, such as adding an ice cream producer or another cheese factory, helps benefit everyone. Our business is good because we rely on wholesale rather than retail, which is a better risk for us. Having retail is an extra for our business."
Originally from the Lower Mainland, Denise feels there is no other place than the Creston Valley-Kootenay Lake region to call home. "I love Creston," she elated. "I am very quiet person, and I like to know who I am dealing with. Our communities offer friendly, genuine customer service; which you don't necessarily get anywhere else. Neighbours are friendly, our land is beautiful to explore by hiking and skiing. The schools are good for children and youth. Everything is good here."
The Harrises have always loved what they do, but it's because of their nature as individuals; not necessarily the work they do. "We love cheese, we love cows, and there is always room to grow," described Denise. "If we decided to sell, which we could have, we would have had to do something else because we are those kind of people. We like to keep learning and growing, which we decided to keep doing within our business. I believe most people think they can do what they love, but there is a lot more to it." Laughing, Denise said, "You have to do what you hate, too!"
To be a successful business, like Kootenay Meadow Farms, the long hours and amount of work would frighten most people. However, those who are passionate, dedicated and determined to provide a wonderful service or product to the region – the opportunities are waiting.
Check out the great video below that illustrates Kootenay Meadows' hand-crafted mountain cheese, their favourite furry employee, and beautiful workplace in the Creston Valley-Kootenay Lake region.
---
By: Laura Heykamp
Creston & District Economic Action Partnership Assistant
Creston Valley – Kootenay Lake Contact