The Kootenays offers a rare mix of pristine nature and vibrant urban life. You won't find many strip malls here. Kootenay towns are walkable, lively and full of interesting, historic buildings. These unique buildings are the perfect places to establish local homegrown businesses.
If historic buildings, with their large windows, marble surfaces, old growth wood, brick and stone, stained glass, high ceilings and lots of light are your thing, here's a list of 8 architectural gems for sale or lease in the Kootenays.
2004 Columbia St. – Bank of Montreal building, Rossland, BC – for lease
For 30 years, Frank Rattenbury was BC's premier architect. He was the architect behind the Provincial Legislative buildings, The Empress Hotel, The Vancouver Art Gallery, Nelson's Court House, and this former Bank of Montreal building, which was built in 1899. This impressive building has retained many of its stunning architectural features, including a granite stairway, an ornamental plaster ceiling, marble entrance stairs, large arched windows, and woodwork details. This building is in excellent condition. With over 2000 square feet available for lease, anything is possible. Read more here.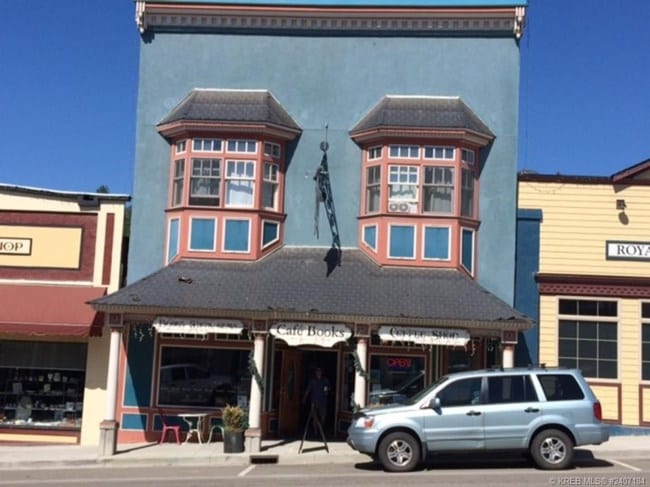 2063 Washington St., Rossland, BC – for sale
This heritage registry building was constructed in 1896. The exterior façade has been lovingly maintained, while the interior has been modernized. Gorgeous bay windows and high ceilings fill the building with light. Located in the heart of downtown, this building has a residential apartment upstairs, while the main floor is occupied by long term business tenant, Café Books. Read more here.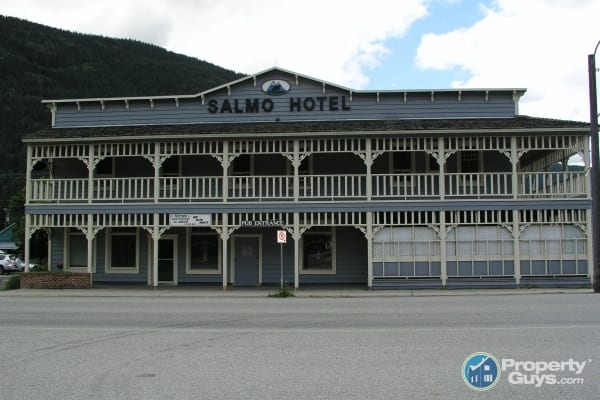 101-4th St, Salmo BC. Salmo Hotel – for sale
Built in 1912, The Salmo Hotel is a local landmark and a destination for tourists. Wrap around balconies and gorgeous spindlework have put this building on the map. Upgrades to the interior mean that the building is efficient and meets all Fire and Health regulations. This is an exceptional business venture opportunity in a town known for its natural beauty and community spirit. Read more here.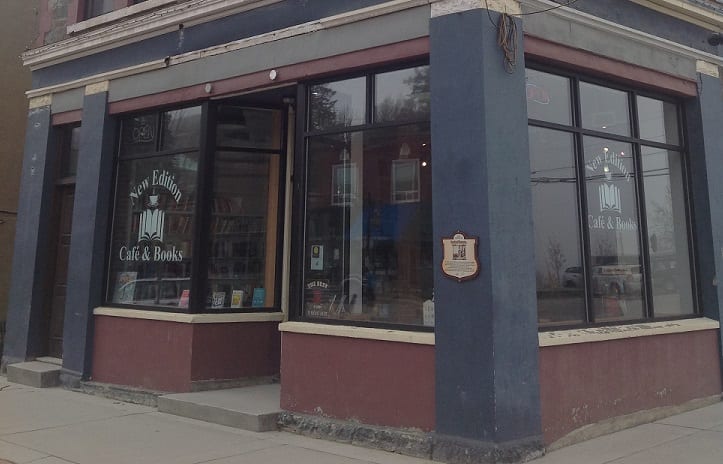 2105 Columbia Avenue – Rossland BC – for lease
Built in 1897, The Stone Block, also known as the Bank of Toronto building, is the only building in Rossland to be built using a rubble type stone. Two major fires swept through Rossland, one in 1927 and one in 1929. This building is one of 23 remaining historic buildings that survived the fires. A rustic interior, high ceilings, large windows and modern amenities make this a desirable building to set up shop. Read more here.
Central Hotel, Fernie, BC and The Royal Hotel Fernie BC – for sale
The fire which swept through Fernie in 1908 was so severe that shortly after city council decreed that "all buildings within a ten-block section be constructed of fireproof material". The result is a downtown core filled with solid, stately buildings, constructed using locally sourced yellow and rose-coloured brick.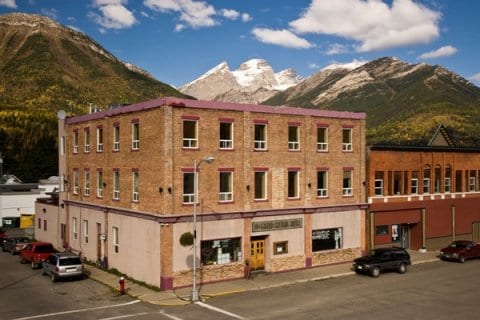 The Central Hotel was recently renovated and includes 23 accommodation suites and a bar and restaurant. Read more here.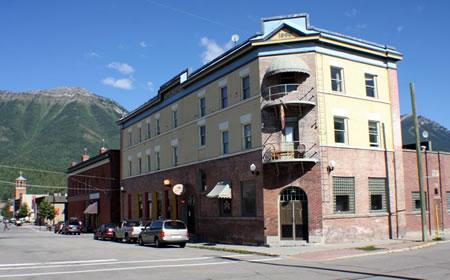 The Royal built in 1909, was recently renovated and refurbished and includes 18 accommodations. Read more here.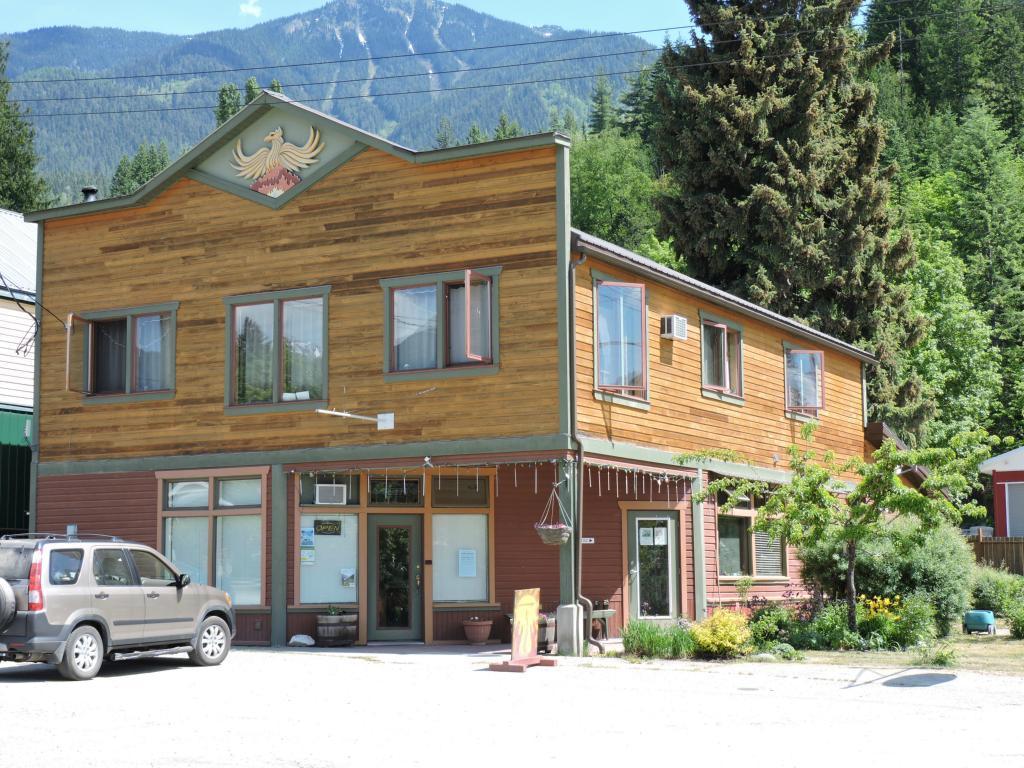 202 Lake Avenue, Silverton, BC – For sale
This sweet building was likely built between 1890 and 1920, during the Silvery Slocan mining boom. This building was recently renovated, including upgrades to electrical and plumbing. With a view of the lake, lots of green space and a commercial/residential lease, you can't go wrong. Read more here.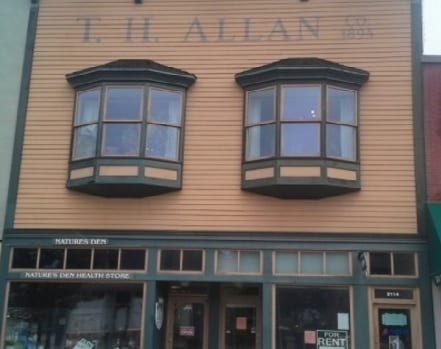 T.H. Allan Building Rossland BC – For lease
This 900 square foot office has a beautiful façade. It appears to have been built in 1893. This gorgeous building is in an excellent location in downtown Rossland. Available for lease is a ground level, main street office with a reception area, and 3 private offices. Read more here.