Visitors to Boundary Country will find memorable communities, tranquil farms, and plenty of wilderness to explore. The region runs along the Kettle River through rolling valleys and over dynamic mountain passes – and what about the people who call the Boundary home?
There's an abundance of creativity and initiative in the area, as evidenced by the number of entrepreneurs. Of working-age residents, 52 percent are self-employed. This number is significant when compared to 13 percent in BC and 11 percent nationally. However, "laid back" is a term that is also likely to be mentioned in any description of the lifestyle and culture of the region.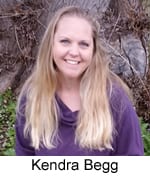 "I know, for our family, we wanted something a little bit quieter, a little bit calmer, and yet to still have all the services and amenities either close by or within travelling distance," says Kendra Begg, executive director of the Boundary Country Regional Chamber of Commerce. She also points out the advantages of choosing somewhere with a lower cost of living. In the Boundary young families or employees can afford to own their homes, and recreation is accessible to all ages.
Boundary Country attracts visitors throughout the year. From the summer paradise of Christina Lake to any of the three ski areas – Baldy, Phoenix, and Big White – there is something for everyone.
Here are some of the communities you'll find in Boundary Country:
Grand Forks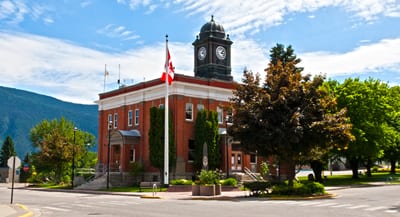 As the largest community in Boundary Country, Grand Forks is a central hub for everything from health services and regional government to education with a Selkirk College Learning Centre. A Rockwool production facility and lumber producer Interfor make up the major industry. Telecommunications and utility companies for the region are also based in the town. There is a significant non-profit presence, as well as a notable farmers market.
"This community seems to work really well together. It's a really strong network, and I think that's unique," said Kendra. "There are organizers from Christina Lake to Beaverdell that work together to ensure that they can meet the needs and demands of everybody and try to reduce barriers."
Grand Forks is starting to see movement towards investment co-ops and community business involvement. Kendra said that as the community grows she's seeing people from larger centres moving in and wanting to make sure the services they need are established and available in Boundary Country.
Midway
Midway, the next largest municipality in Boundary Country, offers services for some of the other communities to the west. Midway has schools, a medical clinic, and a chamber of commerce office. The valley widens here, meaning more flat land is available for agriculture. This area is also home to Vaagen Fibre, a community-owned logging centre.
Although farming is present, Midway still has undeveloped land in the valley. There is also the opportunity to provide services to the semi-retired demographic that lives in the area. Transportation can be one challenge for businesses and residents, but the community has lots of potential for those with reliable vehicles and a desire for a rural lifestyle that still offers the necessary services.
Greenwood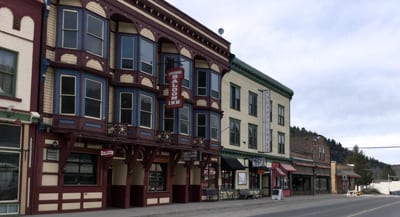 Located in between Midway and Grand Forks is the picturesque town of Greenwood. With its cafes and restaurants, this community is a popular stop for travellers on their way through the Boundary.
Greenwood's municipal water, which comes from underground aquifers, has been named the best in the world at an international water tasting. Several of the popular coffee shops mention this distinction – perhaps why a coffee stop in Greenwood is so popular! However, there aren't product-specific businesses that have really capitalized on this valuable resource.
Greenwood – along with Midway and other Boundary stops – is a location on the Kettle Valley Railway trail. This visually stunning trail is becoming popular with many outdoor enthusiasts. Entrepreneurs may recognize an opportunity for growth in support services such as accommodations and equipment rentals.
Christina Lake
The vacation community of Christina Lake is well known with tourists and seasonal recreationists – the population can triple during the summer. It is the warmest tree-lined lake in the province, but Kendra believes its other big draw is the welcoming and engaging attitude of both residents and visitors.
"Christina Lake is well known for being super laid back and friendly. Everybody chats with one another," she said.
There are lots of businesses that help support the seasonal tourism boom, but Kendra said the year-round facilities are also strong at working together. The Christina Lake Welcome Centre is has opened in an attractive new LEED-certified building that also houses Lisa's Lakeside Bistro and the Christina Lake Arts & Artisan Society. These organizations, together with other local business, form a cohesive and inviting gateway for Christina Lake.
Rock Creek
Once a busy gold boom town, Rock Creek is now a quiet community on the banks of the Kettle River. It is located about halfway between Kelowna and Grand Forks, making it a stop for motorists, many who buy a deli sub at the general store. Pat's Rags, Relics & Rutabagas is another business that is central to Rock Creek. The owner heads up the Discover Rock Creek society.
"Discover Rock Creek is all of the different organizations that make up that area coming together monthly to meet and see what their goals are for the area," said Kendra, who attends the meetings. "They're doing a wonderful job promoting, pushing and building Rock Creek."
There is a long stretch of the Kettle Valley River that runs through Rock Creek with plenty of access points. People are attracted to the community for tubing or other water sports, or even just for a dip. There is potential to build services that can cater to the recreationists who want to take advantage of this feature of Rock Creek.
Big White
Big White Ski Resort falls within Boundary Country geographically, but is easily accessible to residents of or travellers to Kelowna. It is a major ski hill that attracts athletes and recreationalists from far and wide.
Obviously, most industry and business centres around the winter sport scene. However, Big White is also a year long community with numerous services and supporting businesses including the Big White Chamber of Commerce and a school for residents.