Story by Danielle Cameron
Kootenay Business Magazine
Catching up with Deirdre Howard, proud beekeeper and owner of Pure Honey Products in Creston
Deirdre Howard and her husband, Taig, had detected a need in the agricultural market when they opened Pure Honey Products in Creston. They had been beekeepers in Saskatchewan, and they moved to the Creston Valley to assist friends who were struggling to get enough bees to pollinate their crops. They continue to assist some of the main fruit growers in the area with their pollination services.
"The Creston Valley is an idyllic climate for bees," Deirdre explained, "Our main inspiration is our kids and the drive to raise them in agriculture. We recognize that bees are amazing and fascinating and are an integral part of life and the fruit industry. We strive for better bee health, more sustainable agriculture and environmental sustainability."
The Pure Honey Products store offers top-quality honey, beeswax products and even live bee sales for others who have apiaries. The Howards teach a beekeeping course at the College of the Rockies as well.
We asked Deirdre Howard a few questions about this vital endeavor: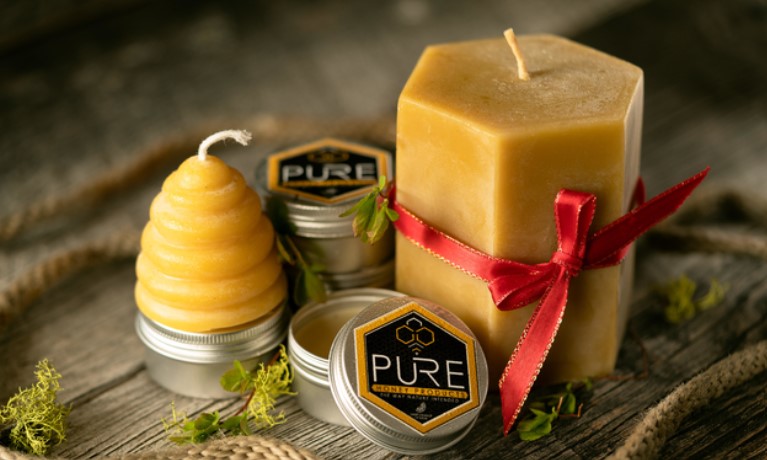 Can you tell me a bit about your beekeeping techniques and how they result in less stress to the bees?
The Germans had discovered that the Varroa mite cannot regulate its own body temperature. When exposed to extended periods of heat, the enzymes in their bodies revert, ultimately killing the mites themselves. An American engineer used this information to build a simple machine to heat the hive without harming the bees, removing the need to apply nasty chemicals to the hives.
In Ireland, one of our colleagues found that if you leave honey in the hive for winter instead of feeding sugar syrup, the survival rate quadrupled, the bees are healthier and in the spring, the bees build their hives back up faster and stronger.
In Poland, they had developed an insulated hive that not only helped the bees during the cold of winter but also meant the colony stays cool in summer, allowing them to produce more honey. This insulated hive also promotes the use of the heating system to more effectively control mites.
And finally, the locations of our apiaries are strategically chosen to provide the most natural environment with minimal exposure to agricultural chemicals.
Pure Honey Products combined all of these researched methods to produce world-class honey right here in the beautiful Creston Valley.
What plants do you recommend for backyard gardeners who want to support their local pollinators?
You can actually purchase a bee mix seed packet, which is excellent. Otherwise, I would recommend dandelions, black-eyed susan, lavender, sunflowers, borage, bee balm, coneflower, catnip, aster and clover, to name a few. Trees like willow are super important to bees also. Finally, I would recommend some research into neonicotinoids or other ingrained pesticides as these can be detrimental to bees.
What can bees teach us?
Bees teach us that what we do as people isn't sustainable. It's like an early warning. It shows us that if we don't reduce our impact drastically, it's going to be difficult to repair globally.
Bees are absolutely fascinating. Through complex and patient communication, they work together to ensure their colony thrives and survives.
Honey bees provide a model for a precise community that can be achieved only through hard work, teamwork, communication and efficiency. They evolve by adapting to their environment, they live within their means, they go out and seize the day, and finally they rest to recharge.
How have you dealt with the challenges of COVID-19 in relation to your business?
We at Pure Honey Products have been very lucky during COVID to be supported by our local community. Our business had to adapt and change focus during COVID, but thankfully we have had a lot more local support and online business, which has been amazing.
Why is it so important for people to produce and shop locally?
When you shop local, you are reducing your carbon footprint and helping to cut down on pollution. Local businesses often source their products from local manufacturers and growers. This helps to reduce long-distance logistics and fossil fuel usage, and even helps to ensure local farms and agriculture thrive, keeping the money in our community therefore building and nurturing our community.
Is there anything else you would like our readers to know about your company?
We are striving for better bee health, more sustainable agriculture practices and environmental sustainability. We are happy to help anyone else on this journey.
We provide pollination services, live bee sales and an exquisite locally produced pure honey.
We also teach the beekeeping courses at the College of the Rockies in Creston.