This uncovered gem of the Kootenays has more to offer than what meets the eye.
A new excitement is starting to creep into a century-old mill town in the East Kootenay. The Village of Canal Flats, beautifully positioned between Columbia Lake and Kootenay River in the Columbia Valley with Crown Land on either side, is starting to emerge as a world-class outdoor destination in its infancy.
This mostly undeveloped paradise has gone through some growing pains of late, most notably the closure of the mill – the village's lifeline for over a hundred years – in 2015. But instead of turning into the ghost town that many predicted, this little lakeside community is turning the page and re-imagining itself as a place of immense potential for entrepreneurs and homeowners seeking to put lifestyle first.
Kelly Kask and Kate McLean were drawn to the Columbia Valley when they were trying to decide what their next step in life would be. Calgarians with a background in construction, the husband-and-wife duo decided to visit Canal Flats on their way to Montana after being invited by a local to stop in for a glass of wine.
"We made it out here and we fell in love with it — the lake, the beauty," Kask said. "There was nobody on the lake and it was 34C, and we were wondering what's the catch. Canal Flats was off the radar."
Their host took them on a quick tour and after ten minutes in every direction, they were sold.
"There were lakes, rivers, mountains and peaks. You have to peel back the layer of the onion and you have this amazing beauty."
Businesses for sale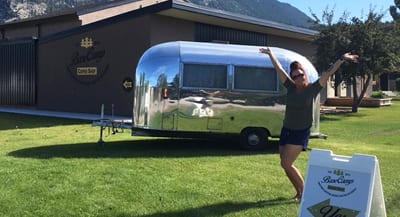 The campground was for sale and the couple ended up acquiring it in peak season — July 15, 2016.
"We asked ourselves, how do you live in this beauty before you retire? Because all the people we were meeting had been out here for 30 to 40 years, and we were envious they beat us to the punch," Kask said. "So we thought, well, let's just roll the dice and see what happens."
Conveniently located on Highway 93/95, the Flats RV and Campground came with a gas station, and they added trailer and Airstream rentals to the mix, which quickly drummed up a lot of business through Airbnb ("we're the last stop before the Lussier Hot Springs — I would say 80 per cent of people mention Lussier Hot Springs in their requests on Airbnb").
Six months later, they acquired the local Base Camp Coffee Shop and changed it from a seasonal summer operation to year-round. The day they opened for business, there were 20 people in line. The coffee shop, complete with gluten-free and health conscious menu items, now shares the Mountain Mercantile complex (the former high school) with a part-time yoga studio, a local vendors' market and a new fitness gym called Re-Trac Fitness. Kask and McLean have since opened yet another business, Old School Surf and Rentals, catering to Columbia Lake users in need of a stand up paddleboard, paddleboat, kayak or canoe rental as well as offering pontoon tours.
Home buyers taking notice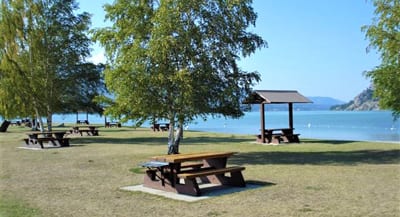 The bubbling up of a new economy isn't just in response to visitation by tourists. According to realtor Barry Benson, Rockies West Realty co-owner and managing broker, new residents are moving in. In the last year, Rockies West Realty sold 17 properties in Canal Flats compared to 10 in the previous year.
"We're definitely starting to see some activity increase in Canal Flats," he said. "The main motivator there is affordability; people are moving there and commuting through the valley to their place of employment — so that's been a really positive story."
Recreational buyers are also moving in, and while both groups of buyers are targeting pre-owned residential homes, Benson is confident this trend is laying the groundwork for higher end home and lot sales down the road.
"The fundamental denominator of any economic development strategy is people. If you start getting people who are living there, it's going to spur on additional supports and make a small business viable," he explained. "As we continue to see the sales and continue to see the people coming to the community, I would expect that we will continue to see the expanded support for the existing businesses and opportunities to start new businesses as well."
Positioned for economic growth
To facilitate this growth, the Village of Canal Flats has hired an Economic Development Officer charged with implementing a new economic development strategy and refreshing the Canal Flats brand. Thanks to the province-wide Connecting British Columbia program, the community just recently acquired high speed internet services. With the deal to purchase the old mill site in the final stages, land that was solely owned for forestry purposes will soon have an owner looking for new economic opportunities for the community.
"Since the mill shut down in 2015, the town has gone through some significant economic challenges and what we're seeing now is basically a re-emergence of the community with a new economic drive and economic engine," Benson said. "I think Canal Flats has a really bright future."
Kask, who was drawn to Canal Flats for its peaceful natural beauty, doesn't believe that a bigger, busier community will detract from its small town charm. He sees gaps in services that current residents would happily take advantage of if they were made available.
"We need a vet, we need a physiotherapist — even if there was a physio from Calgary looking to do an exit strategy, working Monday to Thursday in Calgary, Friday in Canal Flats and enjoying the weekend here in the valley. A dog groomer would be busy every day of the week."
With the nearest pharmacy being a 45-minute drive in either direction, to Invermere or Cranbrook, this presents another niche in need of being filled.
"There are so many business opportunities here. Really, the sky is the limit."
To see a list of businesses for sale in the Columbia Valley, which includes Canal Flats, visit imaginekootenay.com.