Nakusp has some excellent trails to ride, if you're into single-track or cross-country mountain biking. But what about road biking? Welcome to some of the best variable terrain and stunning views you'll find on a bike!
For hardcore cyclists who want to climb hills, there's a treat waiting for you at the top of Hot Springs Road, can you guess what it is?
The North Route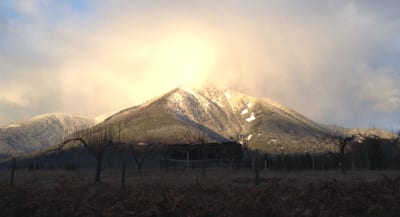 Riding out the north road, cyclists can turn a trip to the Galena Bay junction into a metric century by continuing on to Revelstoke, or by turning back to Nakusp and adding a there-and-back to the southern viewpoint for the full 100 kilometres. The north route has a wonderful rest area, complete with the Ione falls about halfway out, and the views of the Monashee and Purcell mountains.
The Southern Route
Or take the south route, and if you don't feel like doing the full 56 km to Fauquier (another metric century if you go there and back), there are plenty of excellent places to pull over for a picnic and a swim, as well as some notable landmarks. MacDonald Creek Park is about 16 km out, and you'll reach Burton Historical Park Campground at the 35 km mark. But if you feel like you've got the energy to complete an Imperial century, the ride from Nakusp to Lumby, near Vernon, will get you your 160 kms.
The Eastern Route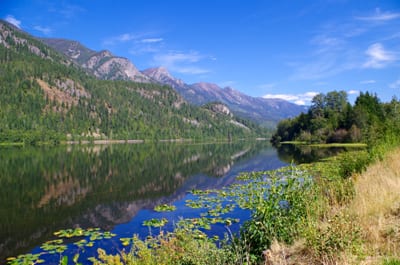 For some more variable terrain with great swimming and picnicking possibilities, there's also an eastern route that leaves the Arrow Lake and heads toward New Denver and Silverton along Slocan Lake. Once you make it up "the Gov," a legendarily steep hill out of town, you've got a few more inclines before you reach Summit Lake, a beautiful Provincial Park that boasts the annual natural phenomenon of the migration of Western toadlets. If you want a scenic challenge, the loop from Nakusp to Kaslo to Trout Lake and back to Nakusp is a gorgeous 277 km ride.
Like all roads in the area, there may be some gravel or fallen rocks to contend with so some riders might prefer a fatter tire. Fatter tires means the Slocan Valley Rail Trail opens up as another route you can travel. It's an unpaved trail that meanders from Nakusp down the Slocan valley with lots of bird and wildlife watching opportunities.
Biking is a great way to explore the area, and see some wildlife that faster vehicles might miss. Enjoy the ride!