Love of wild places is what keeps people in the Kootenay. The strength of that love makes guardians of the people who live here, and they can be protective. But don't worry, if you love and respect wild places, in time you'll be shown the Kootenay's hidden treasures.
Here are five of my favourite wild treasures. I can tell you about them, but I can't give you a map to find them. You'll have to be guided to them by a local friend.
1. Backcountry Skiing
The Selkirks offer spectacular skiing around Nakusp. Of course, you can book heli-ski tours with Canadian Mountain Holidays if you've got the dosh, or Valkyr Adventures out of Burton. If you're feeling extra intrepid, spend some time in the pub and make some new friends. They'll swear you to secrecy and then take you out to the local ski huts.
2. Natural Hot Springs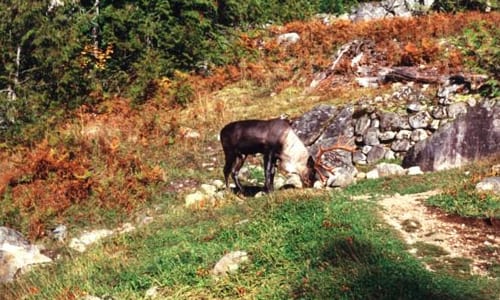 (Caribou enjoy grazing at the Nakusp Hot Springs source year round. -Photo courtesy Nakusp Hot Springs)
For those who find Nakusp Hot Springs and Halcyon Hot Springs too crowded or too commercialized, and long for something more wild, there are still undeveloped hot springs to explore.
Halfway Hot Springs used to be a local secret until somebody decided to share the location online. Soon too many people were coming to the hot spring, setting up campsites and leaving garbage behind. So, an official paid campground was established. Where the hot springs used to be taken care of by the people who came to soak, they now have a caretaker that ensures the springs and the campsites are in good shape. It's worth the small fee.
There are other hot springs that trickle into private pools at cabins you can rent along the shore of Upper Arrow Lake. But the real treasures are the wild hot springs that aren't on the map. To find them, you'll have to come to town and make friends with some local folks who will tell you where they are, if you promise not to share the information.
3. Wild Mushrooms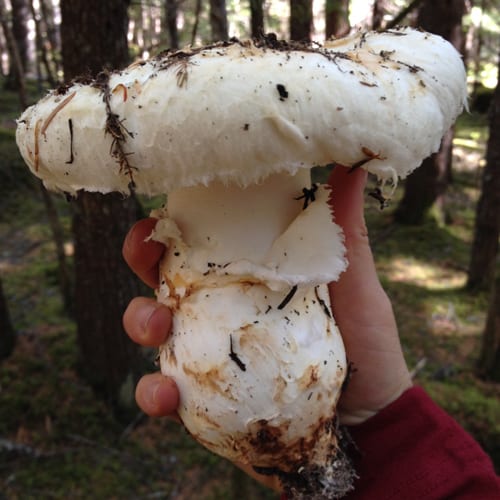 (Pine mushrooms draw pickers from across the country in the fall.)
Matsutake, king of the mushrooms, grows in abundance here, as does the delicious white chanterelle. Every year, hundreds of pickers converge upon the rolling mossy hills in search of fungal gold. Competition is fierce, and earnings legendary. And many people just want to keep their small patch from being "picked out," keeping to the "pick one third of what you find" rule and guarding the location of their mushrooms closely. If you explore the forest, you might find your own mushroom patch to harvest.
4. Free Camping

(A misty morning at the old Box Lake dock near the campground.)
If you like a flush toilet and shower while you're camping, there's no need to look further than McDonald Creek Provincial Park, or try lower key Box Lake. But if you want to pitch your tent somewhere more secluded, there's plenty of places that aren't on the map. Some require a high clearance vehicle to access, and some you'll have to hike to. But you'll be rewarded with a private piece of paradise and the feeling that you've discovered something truly special.
5. Mountain Bike Trails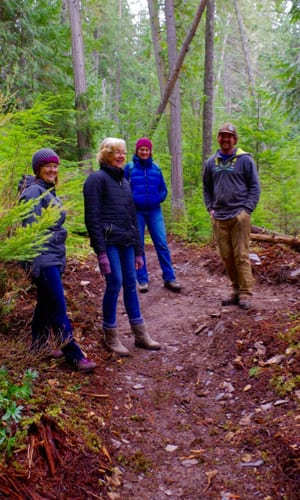 (New Mount Abriel biking trails were visited by hikers in November 2017.)
Happily, trails are being shared more openly with visitors, although locals will still want to check your etiquette to ensure you're not going to do anything dastardly like litter, or destroy trails. Pack those beer cans out! Most trails are still built and maintained by volunteers, so respect is again the word.
Major trail building is also underway on Mt. Abriel, and it's promising to have something for everyone. There are also new adaptive trails ready for the riding down the Slocan Valley, but the best way to find the best tracks is to cruise into a local bike shop and talk to the staff.
There are a ton of other local treasures too, a major one being the people who live here. If you value them, they will prove to be a treasure above all others.
Ski touring photo courtesy Brent Wanstall