As some of you already know, this past August RED Mountain Resort initiated a history making campaign.
In an effort to maintain her unique identity as 'mom 'n'pop/weird uncle' feel that the resort has enjoyed for over 100 years operation, and resist corporate acquisition, the hidden gem, boasting 2,877 lift-serviced acres (4,200 total!) of pristine skiing and 890 metres of epic vertical, turned to crowdfunding to keep this world class skiing affordable and the resort on the cutting edge.
Encouraging you, me and anyone else who wants to keep outdoor recreation of this calibre accessible to everyone and out of the hands of the mega-resort owners, RED aspires to be the resort with a foundation based on little guy ownership.
And, as of a couple of weeks ago, the resort officially hit the $4 million mark with over 1,000 reservations! There's still some serious climbing to hit the ambitious goal of $10M to clear the "Test the Waters" stage of the campaign, but given the enthusiasm and response thus far, things are looking positive.
But that's not all… there is still more big news coming from the mountain!
The Josie Hotel, under construction located at the base of RED Mountain—owned and operated by independent developers—has cleared its own necessary financing and is on schedule for the 2017-18 Winter opening.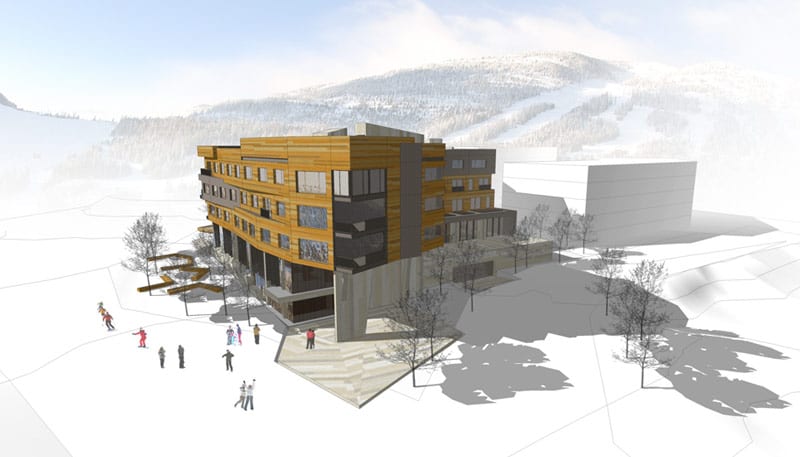 Groundbreaking in both senses of the word, the Josie will be one of the first architecturally unique hotels to be built at a major ski resort in over a decade: a modern, 106-room boutique hotel, finding a home conveniently at the base. The new accommodations will include a restaurant, bar, conference and meeting rooms, a large function deck and a spa housing an outdoor slope-side pool!
In keeping with the mom 'n pop values of RED Mountain Resort, don't expect your usual MegaResort hotel. The design, while contemporary, draws subtly from the elements and motifs of Rossland's heritage in mining and commerce. The structure will integrate fully with the surrounding landscape, taking full advantage of the light and tremendous views.
Highly anticipated, the Josie Hotel will be one of the most significant economic drivers developed in the community in several decades. The hotel is sure to create additional all-season employment as it welcomes increased tourism, boosting commerce for the region.