When Evan Pitman left Australia in 2001 for a winter of ski bumming in Golden, the world was a much bigger place. Fibre optic cables hadn't yet proliferated across British Columbia's rugged valleys, and information technology (I.T.) like Skype and smart phones hadn't yet connected us all.
Blown away by the Canadian wilderness, but with a degree in computer science, Evan moved instead to London, England, to work for a large I.T. company, where he seasoned each summer between winters skiing around the world.
"I got to see lots of places," he remembers, "and do lots of travelling and keep up with the I.T. stuff I studied in university."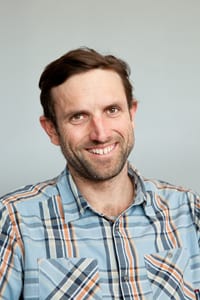 Then in 2009, after six winters adventuring, Golden called him back.
"I'd made a few friends back in 2002," he says. "And I was able to get another work permit. Some of the people I knew owned Glacier Raft Company."
Finally back where he started, he spent the next five years gleefully working the Kicking Horse River, met the now mother of his two kids, and started plotting his final course.
"When I got into I.T., I envisioned living in a small mountain town, and it can be a little tricky, so I thought you have to make your way and start your own business."
When he got his permanent residency in 2014, he entered the Employment Program of British Columbia, through Community Futures East Kootenay, where he made a business plan. In 2015, one month after his first son was born, he opened the doors of his store, Alpine IT Services. The nebula of ones and zeros that now runs our world had brought Golden into the fold of the digital era too, and it was like a floodgate. His plan had been to hire a full-time employee after six months, but did so after just one month.
"We're right in the middle of the tech world," he explains. "We're involved with a lot of businesses pushing that envelope and using cloud-based services and using tools to streamline their businesses from wherever they are, rather than being fixed to a server."
Today, Evan still raft guides a dozen days a summer just for fun, and does a bit ski-touring work out of backcountry lodges each winter too. But with his well-tuned business humming in the background, he's finally home for good.
Follow Alpine IT Services on Facebook.
---
This blog post is part of an ongoing series focused on the technology sector in the Kootenays. It is supported by Kootenay Association for Science & Technology and Imagine Kootenay.