The Nakusp Public Library makes its home upstairs in the Centennial building, and is neighbour to the Arrow Lakes Historical Archives and the Nakusp and District Museum. And in the tiny home of a building next door, the Chamber of Commerce Visitor's Centre is nestled against the Minto's paddlewheel. There's a lot to see and do just in this one community corner.
Did you know you can check out snowshoes from the Nakusp Public Library? All you need is your library card! Or you can download e-books and audible books (also known as "books on tape" back in the day), use the library iPads, or buy used DVDs and VHS tapes.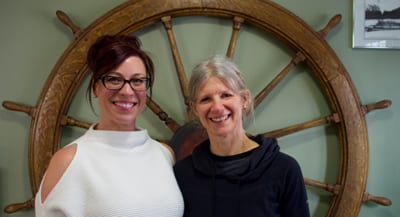 Bring your own book to the monthly Book Discussion and find out what other people have enjoyed reading. Or bring your babies and toddlers to listen to stories read during Mother Goose, or get crafty with Nikki and her Puppets on the Move! And although the library is a community hub, there are quiet nooks to retreat to with a book or magazine.
It's a popular spot to read, play games and just say hello. The Nakusp Public Library's staff and volunteers are welcoming as well as helpful – there's always a friendly face at the library.