No longer perceived as a disadvantage, the Columbia Valley's rural setting is proving to be its greatest strength.
It's been just over 20 years since Kicking Horse Coffee roasted its first batch of beans in a garage in Invermere. Today, the company — which proudly wears the honour of raising the bar for the North American coffee industry with its dedication to organic, fair trade coffee beans — is poised for international success thanks to a deal with Italian coffee giant Lavazza earlier this year.
In the wake of this incredible achievement, it's no wonder that other Columbia Valley food producers have taken note and are determined to follow suit, undeterred by the valley's small year-round population and somewhat remote location (three hours from the nearest big city centre of Calgary).
Rather, they've discovered it's precisely for these two reasons — size and location — that food manufacturing in the Valley has a competitive advantage, and the expanding distribution of locally made products in response to ever-increasing market demands is proof.
Saunders Success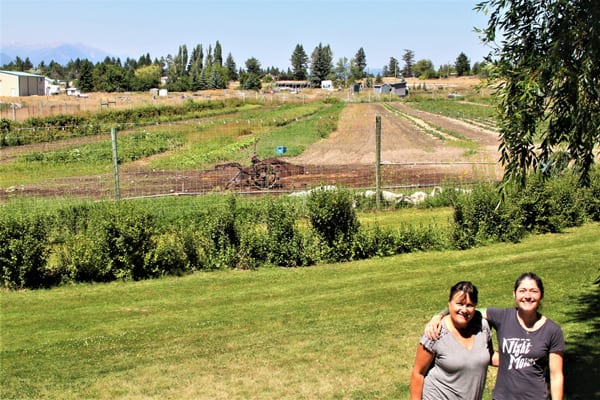 In just three years, Saunders Family Farm jams and jellies have gone from being sold at the Invermere farmers' market and local stores to distribution across Western Canada through Sobeys, the Overwaitea Food Group and now Safeway.
"We're just slammed," said Saunders Family Farm co-owner Faith Saunders. The farm, located in Windermere, is also the site of a semi-automatic facility, where the product is processed and packaged for shipping.
The locally produced line of preserves, which boasts flavours from classic strawberry jam to the more exotic crabapple jalapeno jelly, was selected as one of the Top 10 Most Innovative Products of 2017 at Western Canada at the Canadian Federation of Independent Grocers convention in June.
Saunders credits local support as a major contributor to their success.
"Locals support locals; that's the way it goes," she said. "If we didn't have the support of the local people, the business wouldn't take off. You have to have the support of the Valley."
That support came in a variety of forms, starting with a booth at the Invermere farmers' market, a display inside the local artists' co-op Village Arts, and getting picked up by local grocer AG Valley Foods.
"For us, the farmers' market was a great marketing tool," Saunders said. "We would have so many people from Edmonton or Calgary ask, 'Where can we buy your products in our home city?' That's what spurred us on to want to become federally certified so we could sell across provinces."
Wholesale orders now exceed the farm's capacity to supply all the ingredients, so fresh product is sourced from a farm in the Lower Mainland, with other fruits like Saskatoon berries coming from Alberta and Saskatchewan, and apricots from the Okanagan supplied by the Windermere-based Hopkins Harvest market.
"We like to have the quality products," said Saunders, whose family has been farming in the valley since the 1800s. "You have friends in the Valley, family in the Valley, you know you have to be accountable. Being gluten-free and sulphite-free with our products, we're always trying to raise the bar a little higher with the business.
"It would have been a whole different ball game if we had started the business in the city as opposed to being in the Valley. We love it here."
Ranching Renaissance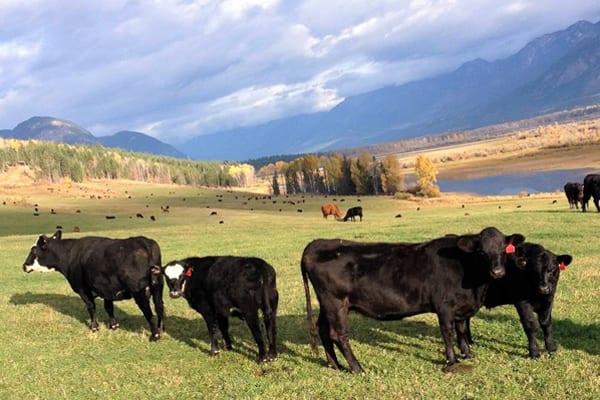 Margaret Feldman and her husband Peter came to the Columbia Valley from Switzerland in 1978 and bought the Bugaboo Ranch in Brisco the following year. They started with 50 cows and one tractor and are now up to 340 cows and five tractors. Up until recently, their focus was on calf-cow operations and selling to Alberta feed lots, but with the Columbia Valley's new abattoir opening in March 2017, they're finally able to meet the growing demand for local grass-fed beef.
"In the past, we could only sell beef to the customers themselves in the East Kootenay," Feldman said. "Now with the abattoir, it's government-inspected and we can sell to anybody: supply a restaurant, a store, whatever."
Past sales of beef would be done as a half cow or quarter cow, but many people didn't have big enough freezers let alone know how to manage the cutting and wrapping. With the opening of the abattoir, Feldman saw an opportunity and began to offer variety boxes with a little bit of everything (selected small roasts, steak, ground beef and stewing meat) for $125 in a size that fits inside a small freezer.
"That is a big advantage. People are really into the grass-fed because cattle are supposed to eat grass, not grain, and feed lots feed grain."
Other advantages to buying local grass-fed beef include better treatment of the cattle, who get to stay on their home turf instead of being hauled off to crowded feed lots where sickness and disease can spread like wildfire through thousands of cows brought in from all different regions.
Since Bugaboo Ranch started up their local meat business in March, the Wednesday night Windermere District Farmers Institute market at the Invermere Crossroads has been their main point of sales, as has the Beeland Market & Bistro in Spillimacheen. The popular roadside venue known for its pure natural honey also has Bugaboo beef on its bistro menu as well as in the freezer for purchase.
Feldman hopes to see Bugaboo Angus beef for sale in more of the local stores and restaurants, but first things first, like building a website and creating a logo for labels.
"All of a sudden it took off and we had a lot of orders," she said.
Feldman and her husband are in their 60s, and they hope to one day pass the business on to their grandchildren. Their son Pete and daughter-in-law Kirsten are already partners in the ranch's operation, and they have two young sons who appear to love the ranching lifestyle.
"We started this ranch and it was small, and we kept on growing and growing it," said Feldman. "Now I'm thinking if it takes off, then those two boys have a business both of them can be involved in as well."
Championing Chocolate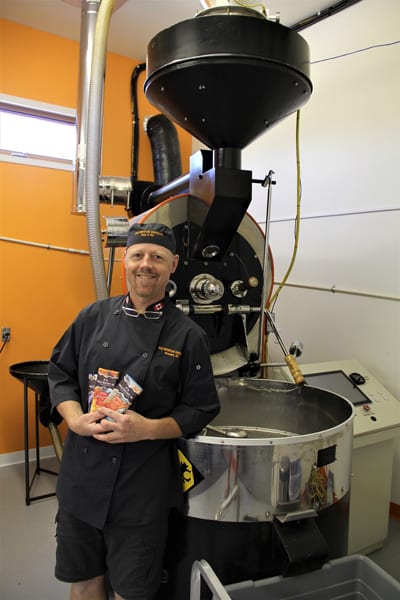 When Glen Davies moved to the Columbia Valley from the Coast with his family, he knew he wanted to work for himself and looked at a number of different businesses, hoping to find the perfect opportunity.
"There were a couple that were a good fit, but I found it just wasn't the right time for the seller and I wanted to get into a business fairly quickly."
The move to the valley came after his wife Helen accepted the role of Chief Financial Officer for Kicking Horse Coffee. Her background in food and beverage combined with Davies' automation industry experience looking after major clients like Pepsi-Cola and Molson Breweries caused him to heavily consider food production.
"People always have to eat, and food production across the country is a strong industry," he said. "There is a lot of potential, especially within the natural quality food sector. People are starting to think about what they're putting into their bodies, so there are constantly opportunities arising from that."
Davies wanted a business that accomplished two objectives: to bring in dollars from outside the Valley and not be limited to doing business in the Valley.
"Coffee had been done rather well here, so I wasn't about to step up and try and compete with them."
He created Wild Mountain Chocolate, a bean-to-bar chocolate manufacturing company specializing in origin chocolate and organic ingredients. After constructing his own facility in Invermere's Industrial Park complete with a roaster from Kicking Horse Coffee that he refurbished himself and chocolate-making machinery from Italy, Davies launched his product at the first Invermere farmers' market of the 2017 season and has been racing to keep up ever since.
Origin chocolate is based on the country the cocoa beans come from, and Wild Mountain Chocolate's first three bars are made from cocoa beans from Ecuador, Peru and Madagascar. Davies buys only organic, ethically sourced beans and has even travelled to Ecuador to personally check out his supplier. The beans are shipped to Invermere and roasted on site, a crucial detail in the bean-to-bar manufacturing process whereby the chocolatier oversees every step of the chocolate-making process.
"I'm doing origin chocolate right now as it's a unique product, but I also love the flavour. I'm trying to show what chocolate is about on its own and what it can be. It's really wonderful."
He's already hired staff and ordered more equipment, and hasn't had to do any advertising and doesn't expect to for a while — a unique position to be in for a new business.
"Word travels fast. People are calling me every day. I'm getting emails from people who have come here from Calgary and Edmonton. They want to put my chocolate in their stores."
After less than two months in business, Wild Mountain Chocolate can be found at stores and cafes up and down the Valley and in Canmore, and Davies has already been approached by a national distributor. Similar to Saunders, he cites the Invermere farmers' market and AG Valley Foods as his biggest launching pads right off the bat, and can't say enough about the Columbia Valley's community support and location.
"There's a real opportunity to use our natural surroundings, it's a naturally marketable location. There's nowhere else like it, it's stunning, and it's a very good target market that comes to this area."