"It was fun camping with guns and getting paid for it, but I was kind of beating up my body and I figured if I wanted enjoy my life outside of work I'd need some kind of mix of field work and desk work," says Peter LeCouffe, an industrious 29-year-old GIS technician from Kaslo. He moved to B.C. from Quebec 10 years ago, after five years in the military, and before that growing up working on a farm in Quebec's maple-strewn Laurentian Mountains.
"Geographic information systems (GIS), is like Google Earth on steroids," he explains. "It's taking data and representing it spatially. And being able to answer questions using it to make business decisions."
Beginning his GIS training at Camosun College in Victoria, Peter met his now wife, whose family was from Kaslo, a town that mirrored his quaint home region's simple and quiet rural appeal – and affordability. Only with bigger mountains and milder weather. Serendipitously, his own father moved to Kaslo shortly thereafter. Peter and his wife then decided to settle back in the Kootenays too, where he finished his bachelor's at Selkirk College, then discovered drone technology.
"One of my favourite sayings from a buddy around here is, 'Kaslo's beautiful but you can't eat the scenery.' So you have to find a way to make money. I had to make my own job."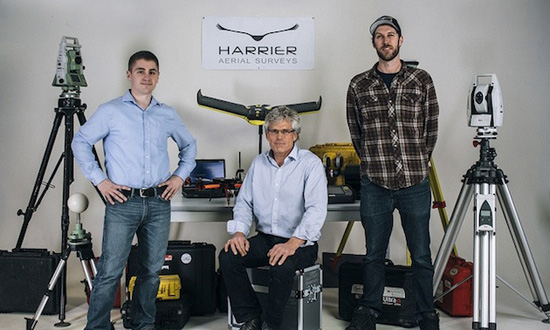 Along with partner Robert Simmerling, Peter went on to start Harrier Aerial Surveys down the road in Nelson, an unlikely tech hub just an hour down Kootenay Lake, connected the whole way by fibre optic internet. Harrier is a cutting-edge company that uses drones to deliver hundreds of times more data to clients than traditional GIS methods. One of their key services is measuring inventory for industrial companies, like Teck, that need to keep track of materials in giant piles outdoors. Before drones came around, a few people would drive around in trucks, estimate tonnage, take an average, and call it good. Or, if it needed to be precise, the company could hire a surveyor.
"That surveyor would spend eight hours trudging around the pile picking up say 1,000 points to describe it," Peter says. "Whereas now it takes us 15 minutes and we have 15 million points to describe that pile, and we don't put anybody in harm's way climbing all over it."
Peter's business has since taken off, with two full-time employees, and his home life is cruising nicely too – in an idyllic setting with great trade winds.
"My wife's family is all here, I've got my father and step mother and little sister, I volunteer for search and rescue, and I'm rebuilding an old farm house that my wife and I bought three years ago. If I can find any spare time on top of that I go skiing in the winter and hiking in the summer. It's a good spot to live."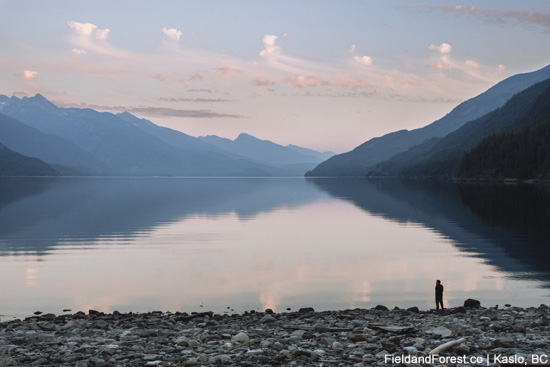 ---
This blog post is part of an ongoing series focused on the technology sector in the Kootenays. It is supported by Kootenay Association for Science & Technology and Imagine Kootenay. Read the next post in the series: 5 tech startups to watch in the Kootenays.