In 1985, professor Donna Haraway wrote an essay called the "Cyborg Manifesto." It became one of the preeminent works of the post-modern era and struck an incisive chord with artists, philosophers, academics and scientists alike. She argued that all humans interacting with technology were becoming—colloquially speaking—cyborgs. And by augmenting ourselves as such, we transcended traditional boundaries. One of those was physical space.
Nearly 30 years later, her essay has proved prophetic. Anyone you could ever want to reach is in your pocket, along with the entire catalog of human knowledge. And one of the biggest things this tech has changed is how we work. Freedom of movement is coming to define the professional sector. Forbes magazine reported in a 2018 article that the majority of the U.S. workforce will be remote by 2027. Canada, by all accounts, is on that trend too. And the Kootenays are at the forefront. You can now live in New Denver, and work in New York City. Some of the best jobs might still be in urban centres, but you no longer need to be.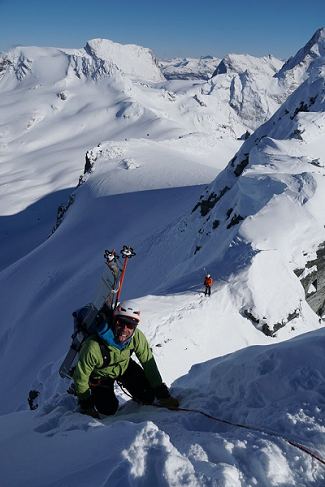 Cam Shute, an engineer who lives in Nelson, was on the cutting edge of that curve when he left Vancouver in 2007 to pursue lower housing prices, less bustle, bigger mountains and more snow. Since then, he's risen to the rank of director of product at Genuine Guide Gear, or G3, a winter backcountry-equipment company based in the province's major metropolitan seat.
Having spent eight years in Vancouver, Cam came to find the background intensity of the city too much, and thought he was choosing lifestyle over career when he decided to leave. It was in big part because he wanted to raise a family somewhere quieter and simpler. But a funny thing happened when he settled in Nelson: his employer kept giving him work. In the end, Cam never ended up having to give up his job, he took it with him.
"It was lot of it was technical challenges at first," he remembers. "Like cloud computing wasn't really a thing then, so I had to do a lot of computer geeking just to make it work. And I actually started that while I was working in Vancouver. It was a really busy office so I would often go home when I had to do really focused tasks. I needed access to the company server, I needed all my CAD model data. So I kind of had my system set up so if I did leave I'd still be able to work."
And work he has. Twelve years since ditching the office, the lanky outdoorsman's, with his youthful mop of shaggy hair, has become renowned as one of the ski industry's leading engineers. His products, namely tech touring bindings, have won awards, and sparked entire trends. He credits much of this to getting to live the life he wants, where he wants.
"In Vancouver, raising a child, just getting through the day, is full on," he says. "Getting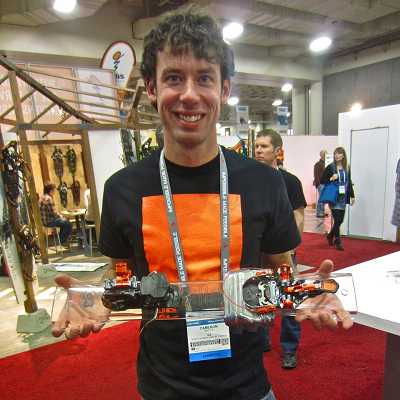 your kid to and from wherever they have to go to, like after-school activities, would have a ton of stress associated with it. In a smaller town you're dealing with less of a mortgage, so less financial stress on you, less people, less time in a vehicle. … There's definitely an association between productivity and quality of life."
For Cam, that means rock climbing, backcountry skiing and mountain biking, all of which is at his doorstep. He notes there are three local rock-climbing crags he can ride his bike to without even having turn his ignition. And since he forged the way at G3, others have followed. He's had co-workers in Salt Lake City, Austria, and even in his native Nelson. He says the owner of G3 works from home much of the time now, too.
"Mostly it's gotten better," Cam says, pensively considering the years. "And a lot of that's based on internet speed. That actually was a really big deal back then. Video conferencing was terrible. And to make remote work not feel weird you have to have really good communication. You have to feel like you're in an office to be effective. Mostly I've seen the tools get better."
Cam admits that it takes a certain type of person with a certain amount of discipline to work remotely, and the work-life separation can be a challenge. He suggests trying it while still in the city before taking the leap. He knows from experience some people do better in social environments than at home, but there are ways to manage that, too.
That's exactly what Natalie Daley does. An effervescent millennial, she moved to Revelstoke from Ontario a year ago, even though her job is in San Francisco. Natalie runs the Canadian chapter of Art With Impact, a mental health charity that hosts an online film festival and delivers mental health programming to schools, companies and other organizations. Because she does better with others around her, she works out of a co-working space called Mountain CoLab.
"In Ontario, I mostly just worked from home or from coffee shops. But in Revelstoke there is so much of a small business community, so that's why the CoLab's been a really good fit. … When you never leave the house and you're working in the same space it just becomes a time warp and you lose motivation."
That motivation, these days, is all the recreational opportunity around her. If she can be really efficient, she wins back time to go for a mountain bike ride, or snowboarding for the morning.
"I've always been pretty self-motivated, but when you live somewhere that is so beautiful and offers so much in terms of outdoor recreation, you're more driven to do your work in smaller amounts of time. Typically I can get a lot done in two hours."
For the coming generations, being self-motivated looks to be the way of the future. Natalie, for example, actually built her own position out of an internship, founding the Canadian side of Art With Impact, and beginning her professional career right at home.
"I haven't done a job with this much responsibility in a workplace setting before. So it's become so normalized for me to work remotely that I can't imagine what it would be like to work in an office."
And in terms of giving up The Greater Toronto Area for rural Revelstoke, she says the work has only gotten easier. Part of her job is travelling to administer programs, and she's closer to the action now.
"I think it's better working here, because I still have video meetings with my colleagues, just like I would back in Ontario, but more of my colleagues are actually based on the Pacific Coast [in the same time zone]. I see them more because I'm closer to where they are in the States."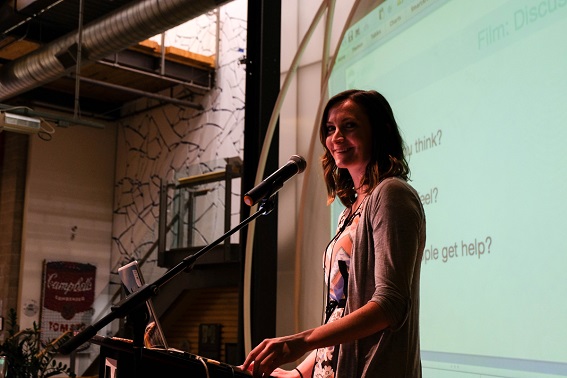 But it's not just the ski resorts or the mountain biking that's attractive. These days, even culture is portable. Online communities have bolstered the arts and brought new funding to rural areas, along with more people, and the associated amenities: like eclectic restaurants, yoga, festivals, business funding, and most anything else you could want. There are community resources, fab labs and more. While many people can be perfectly happy in traditional office settings somewhere urban, more and more people need nature in their lives, and are finding tech is bringing the best parts of city life to small towns, too.
Studies show you get happier, healthier and more productive workers if they get to live where they want to. For a lot of new professionals, that's becoming the wide-open Kootenays.
__________________________________________________________________________________
This blog post is part of an ongoing series focused on the technology sector in the Kootenays. It is supported by Kootenay Association for Science & Technology and Imagine Kootenay. Read the next post in the series: 5 tech startups to watch in the Kootenays.