The Kootenay region will be well represented at the BC Tech Summit in Vancouver next week.
Around 50 Kootenay-based tech companies will be at the annual innovation conference, as attendees, exhibitors, and speakers.
For the first time this year, BC Tech Summit is showcasing technology companies from across the province. There will be new "Regional Houses" set up around the perimeter of the Exhibitor Marketplace. The Kootenay House will showcase our local technology success stories and innovations.
Kootenay tech companies featured in Kootenay House will include ThoughtExchange from Rossland, Cronometer from Revelstoke, Pixel Cents and Kodiak Measurement Services from Nelson, and Columbia Lake Technology Centre from Canal Flats.
Tech Summit attendees are invited to the Kootenay House Party on Tuesday, March 12 from 5-7pm at the Kootenay House booth in the Exhibitor Marketplace. The event, sponsored by the Kootenay Association for Science & Technology and Columbia Basin Trust, is an opportunity to network with Kootenay companies attending the summit, while enjoying complimentary appetizers, Kootenay beers, swag, music and more.
There are also a some Kootenay faces on the list of speakers. Don Freschi, CEO and founder of Fenix Advanced Materials, will moderate a panel called How to Build a Successful Tech Company Anywhere. Alongside him on the panel will be Jessica Nordlander, Director of Operations for Thoughtexchange.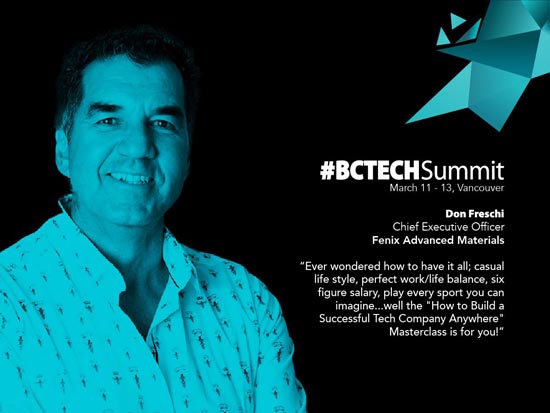 Derrel Fry, CEO of Advanced BioCarbon 3D, will be on the Ones To Watch stage in the Startup Village. He'll be talking about his company, which has developed a wood-based bioplastic material for use in 3D printing.
Terri MacDonald, Director of Applied Research and Innovation for Selkirk College, will be part of a panel about the Smart Communities Challenges. She'll talk about Smart Kootenays, a digital mobility platform that was one of four projects in BC to receive funding through the province's Smart Communities pilot project.
BC Tech Summit is Western Canada's largest annual innovation conference, with more than 3,000 attendees. It takes place over three days, from March 11 to 13, at the Vancouver Convention Centre.