Want to live in a new, stylish, energy-efficient home with a beautiful ever-changing lake view in the heart of the Kootenays? Well, now you can. Two units are for sale in the newly built Bell Triplex in Nakusp, BC.
Collaborative project
The modern triplex built on the Nakusp waterfront by local outfit Madden Timber Construction in 2017 is a standout landmark with its combination of curves and wood. Beyond just looking good, the three units designed by Cover Architecture out of Nelson are Passive House certified, meaning they are extremely energy efficient. Not only does this mean they're good for keeping energy use down, they're also good for your health: there's no pockets of cold or warmth and no condensation thanks to the building's filter and ventilation system. It's a life of style and comfort.
Molly Bell who was the individual behind the endeavour, said she was looking to build an energy-efficient home that she could love to live in. And it was Lukas Armstrong from Cover Architecture who introduced her to Passive House principles. The resulting design and build was a collaborative process involving Bell, Armstrong and Dave Madden.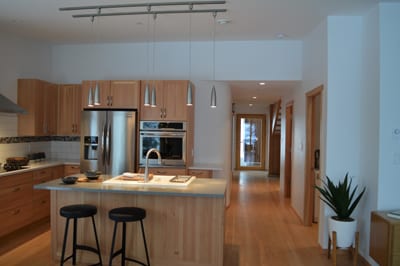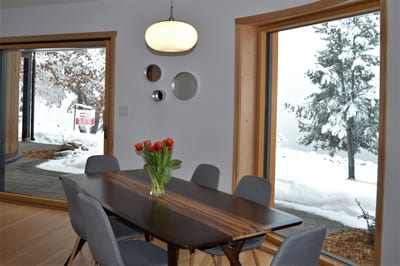 Passive House certified
Passive House building is becoming more well-known in Canada, but the term has had to overcome a linguistic barrier as part of its migration from Europe. The term "passive" in relation to energy-efficiency is often linked with solar power in North America, not with energy-conserving construction. In Germany, the original term "passivhaus" refers to any building where the envelope does most of the work maintaining the structure's temperature.
In the great tradition of thoughtful craftsmanship, Passive House methodology focuses on good design principles, ones that in this case minimize the necessity of additional heating or cooling for a building.
The key to successful Passive House certification is limiting energy consumption and air leakage, and meeting specific ventilation and comfort criteria. The criteria for certification are rigorous, and builders and architects like Dave Madden and Lukas Armstrong who worked on this project speak highly of the science that's behind the requirements. A third-party certifier checks the work, ensuring the quality of all the components and then deems whether or not the project is worthy of PH certification.
Molly is happy in her beautiful new space with its stunning view and its proximity to Nakusp's amenities, and looks forward to welcoming new neighbours to the other two units.
If you'd like to view the homes that are for sale, you can see the listing here.