"To me, food is an art form," says Chef Amanda Skidmore while salting a fresh batch of mini eggplants that will cure in their seasoning all night before mixing with blanched, grilled leeks and then house-braised pork. When it's all said and done, it'll be part of an uncompromising Vietnamese soup, or pho, at Yum Son restaurant in the beaming arts-and-food hub that is Nelson.
A short hop from the famed Victorian decadence of downtown's Baker Street, Yum Son opened a year ago with a kitchen and menu intricately designed by Amanda, who previously tenured as the top chef at Whitewater Ski Resort, and the All Seasons Café. She pegs the fused flavours at her new digs as "Viet-modern," delivering a distinct lunch and dinner feature every day based on what's fresh and in season.
The innate creativity of the food industry, Amanda explains, is what inspired her career in it at age 18. Five years later, after a stint at the Pacific Institute of Culinary Arts in Vancouver, and working her way up the ranks, she had her first head-chef job at Vancouver's The Charlatan.
"You can imagine it was busy and nerve-wracking for a 23-year-old," says the energetic foodie, "but I learned a lot."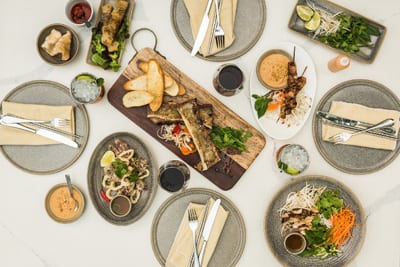 And so did those around her. Since then, the prodigious master has gained a reputation as an avid mentor to others. Her current sous chef, Sage Hartland, says, "Working with Amanda has been an incredibly constructive experience; it is truly a pleasure to be a part of the positive workplace culture she creates."
Now 34, Amanda chose to relocate to Nelson nine years ago at the height of her metropolitan career. Having grown up in the nearby Okanagan Valley, her earliest food memories in fact come from family visits to the "Queen City" of the Kootenays, where she first tasted numerous exotic cuisines. Today, its more than 80 restaurants still offer a viable alternative to the big city and have drawn her back. She even recently represented her adopted hometown in a cook off against its sister city of Sandpoint, Idaho – and won.
"It takes literally three minutes to get to work from my house, and it's fifteen minutes to the ski hill," Amanda boasts. "The scenery in the Kootenays is amazing, and there's tons of good music. We have a good balance here."
You can follow Amanda Skidmore on Instagram @yumson.vietmodern and @leseatlife.
Want to work in the Kootenays like Amanda? Visit the go2HR Job Board today!
---
This blog post is part of an ongoing series focused on people who work in the tourism sector. It is supported by Imagine Kootenay, Kootenay Rockies Tourism, and go2HR.
Read our previous story form the series: Event Coordinator Ryan Lachapelle.