This May, the Arrow Lakes Historical Society (ALHS) is hosting the BC Historical Federation Conference in Nakusp. It's a feather in the cap of the ALHS which has had a busy five years of achievements that have included building their spacious new extension on Nakusp's historic Centennial Building, digitizing historical photographs and touring slide shows through the area. The slide shows, prepared and presented by Kyle Kusch, have been very popular in the area thanks in part to the interesting commentary given by their knowledgeable presenter.
The ALHS Archives, now housed in the Centennial building which has served as a school, the Village office and now also contains the library, is staffed primarily by committed volunteers. Rosemarie Parent, who was part of the initial push with her husband Milton to begin the ALHS, still gives her time to the Historical Society.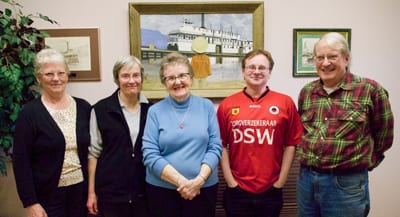 The Archives are open year-round Tuesdays and Thursdays from 10 a.m. until 3 p.m. and are stuffed with maps, photographs, newspapers, books, DVDs, magazines, assorted ledgers, and recorded interviews with area pioneers made by Milton Parent.
And if you can't make it to the Archives when they're open, you will find the recordings on their website. But it's worth a trip to the building to see the model boats on display, and if you go in the summer, the museum is conveniently located downstairs too.