Five years ago, when Nicole Fricot moved to Revelstoke after more than a decade living and working in Vancouver, Toronto, Rwanda and Peru, it might have seemed like an odd move for the MBA-wielding business consultant. Nicole grew up in Salmon Arm, an hour west of Revelstoke, but left the area at a young age for better work prospects. Back then, the towns of the Columbia Mountains were like a Bruce Springsteen song: Main Street was made up of mom-and-pop shops where everyone knew each other's name. The local economy was just for locals.
But when high-speed internet, powerful desktop technology and cell phone towers proliferated, Main Street changed, and the Columbia Mountains got connected to the global market place. Today, Nicole's family, which comprises three kids and a husband who works in marketing, are thriving in the 6,700-person town next door to where she grew up. To boot, Revelstoke's since emerged as a bucket-list mountain destination.
"We came back here for the exact reasons as others," she explains, "for the lifestyle."
After initially doing consultant work remotely, Nicole eventually became Revelstoke's director of community development. Quick to note that diversity is clutch to keeping the local economy weatherproof, there's one particular sector that excites her right now.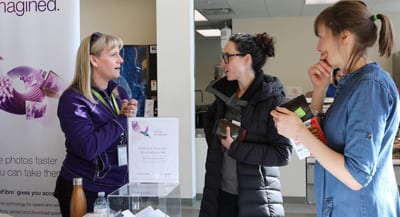 "I do see tech as a major form of economic development for our future," she says. "I've spent a lot of time putting energy and resources into that. More people are moving to Revelstoke who are knowledge workers, tech workers and tech-enabled workers. Our hope is we'll be able to attract some smaller and medium-sized tech companies eventually."
In the meantime, she's thrilled to see businesses like Sniper Action Photo – which makes RFID enabled automated cameras – successfully base out of the quaint Victorian town while serving clients around the world. And the community, which got 17 new businesses in 2017, is likewise grateful for the open business climate she helps foster.
"Nicole is always two steps ahead," says Karilyn Kempton, the city's tech-strategy coordinator. "She's always looking for new projects, funding opportunities and ways to make Revelstoke a better place to work and live. The city is lucky to have such a dynamo."
So what's Nicole's pitch for being a tech worker in the heart of the Columbia Mountains today? "We have everything you need."
---
This blog post is part of an ongoing series focused on people who work in the technology sector. It is supported by Imagine Kootenay and Kootenay Association for Science & Technology (KAST). Read our previous story from the series: Rossland ski racer speeds towards a high tech future.