It's a popular Nakusp spot, and it's not uncommon to see a peopled lined up outside the Arrow Lakes Health Care Auxiliary (ALHCA) Thrift Store waiting for it to open. The big windows on Broadway Street are attractively dressed with some of the shop's wares, often by artist Wendy Toogood, one of the many dedicated volunteers.
The thrift store recycles used clothes, books and household things back into the community, raising money for whatever may be needed in the community. And that's no small potatoes.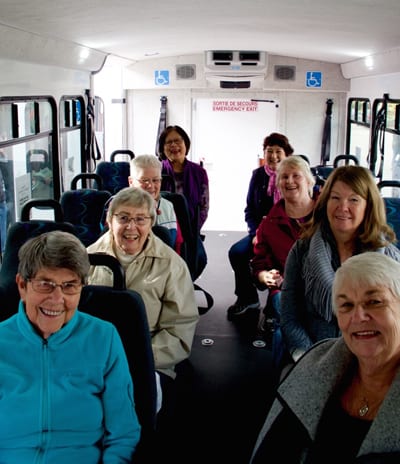 The ALHCA has purchased a bus for the Arrow and Slocan Lakes Community Services so they can transport people to medical appointments, or just for a day out of town in the Okanagan or Revelstoke. When the town needed a doctor, the Auxiliary bought a house so new doctors wouldn't have to try to find housing in what can be a tricky market. They've also bought equipment for the hospital, supplied funds to Nakusp Hospice and BC Ambulance Service, and offered bursaries to students going into health care.
Volunteers spend about 500 hours a month making everything run smoothly front and back. And there's always a warm welcome when you walk through the door. No wonder it's such a popular destination in Nakusp.