Remember that scene in The Matrix where Neo is offered either a red pill or blue? One represents status-quo reality, and the other a step into a much bigger world. What if a serene, little mountain community was offered a similar choice, but without all the menacing post-apocalyptic fracas? Welcome to Canal Flats, a former mill town of 668 citizens in the Columbia Valley undergoing a monumental reinvention thanks to the matrix… or, the cloud.
In a general sense, the cloud is simply where data lives online. Every time you store a photo off your phone, or even stream music, you're drawing and uploading to and from it – it's basically off-site storage. But, ethereal though it may sound, the cloud is a real place. It's made up of data servers all over the world – massive hard drives that need power and a physical location. As this kind of computing takes over, finding places to put data servers is an increasing challenge, but one that British Columbia's rural villages are uniquely positioned to profit from.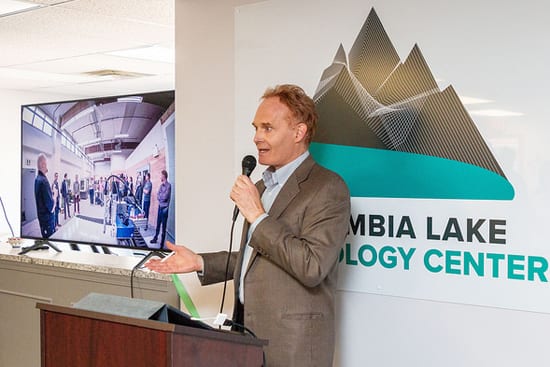 "Communities like this, we believe, are the future of the technology industry," says Brian Fry, a Rossland, BC-based tech businessman with a bullet-proof record of success who's installing a new economic engine in Canal Flats in the form of a data-server farm and manufacturing plant.
"There are over 300 rural communities in Canada looking for a road map," adds Lorri Fehr, CEO of the town's newly minted Columbia Lake Technology Center (CLTC), which has taken over the old saw-mill site. "In the past, data centres were typically inside warehouses."
What they're talking about is a multi-pronged project that includes company-built housing (mortgage options available for employees); greenhouses using server heat, along with all CLTC facilities; and a state-of-the-art factory building servers into shipping containers, ready to export around the world.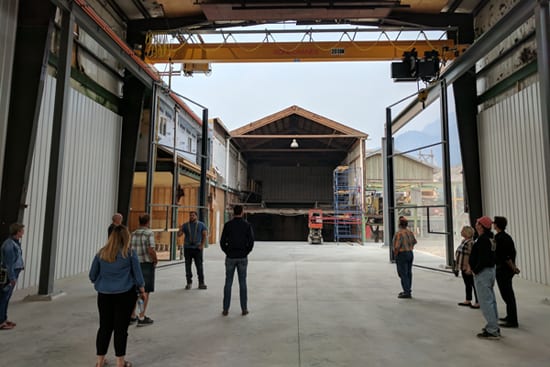 But to get to here, we first have to step back in time. The village of Canal Flats lies halfway between Cranbrook and Invermere, flanked by the Purcell and Rocky Mountains, while sitting placidly at the mouth of Columbia Lake – the headwaters of the now most hydro-power-producing river in North America. The village name came over 100 years ago from a canal built for 19th century sternwheelers to pass from the Kootenay River into Columbia Lake. But when the interest in that waterway waned, Canal Flats instead leaned on forestry for the next century. Then, the fickle resource markets shifted in 2015, and their mill closed, leaving locals scratching their heads.
"Council was working very hard to find a new way to revive the community after our major employer left," says Mayor Ute Juras, who originally moved to town in 1992. "Fairmont employs a lot of people from Canal Flats. Some commute to Invermere for work," she explains, noting that the community is very well situated between major destinations. Especially for Albertans. Many of the properties in town have in fact been scooped up by a leisure class from the neighbouring province looking for cheap weekend homes in the Columbia Valley. And while some have retired there, it's also left a void of permanent residents that was, until now, risking a ghostly vibe overtaking town.
That is, until Brian and his partners saw space, power and quality of life at affordable prices with all the same wilderness that's made surrounding towns bucket-list spots. Within an hour's drive you've got Panorama Mountain Resort, Kimberley Alpine Resort and Fairmont Hot Springs Resort for skiing, not to mention a diversity of hiking, biking and golfing – or hunting and fishing right out your back door right in Canal Flats, plus an all-but-empty picture-perfect lakeside.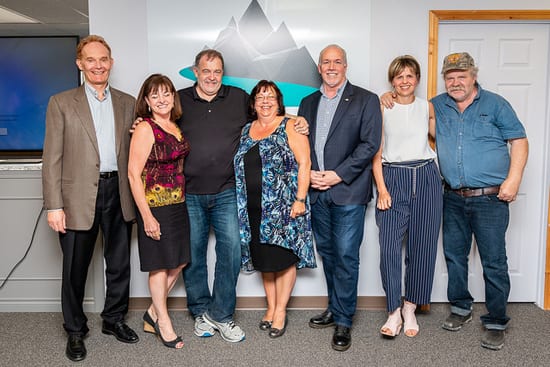 "You can't survive and you can't grow when you have a situation like Vancouver is in where you can't afford to live there," says Brian. "We're future proofing Canal Flats, the initial push is going to be around digital currency. Blockchain is going to be bigger than the internet. Then we'll look at things that take a lot of storage: video rendering, A.I., it could be your medical records."
This kind of storage requires massive amounts of power. The kind that, say, a former mill site would have. In this province, that comes from clean, renewable hydroelectric power. Brian says the CLTC plans on building its own server farm as big as their energy capacity will allow, and then continuing to manufacture for sales through PodTech Innovation, their onsite fabrication entity. It's a company that merges trades – like welding – with technology, and is currently also training local youth while employing 27 people.
"We're hoping with the growth of the village there will be more businesses coming as well," says Ute. "Our economic development officer came up with a formula that says we need to reach a population of 1,000 to be sustainable, and I think we'll meet that goal."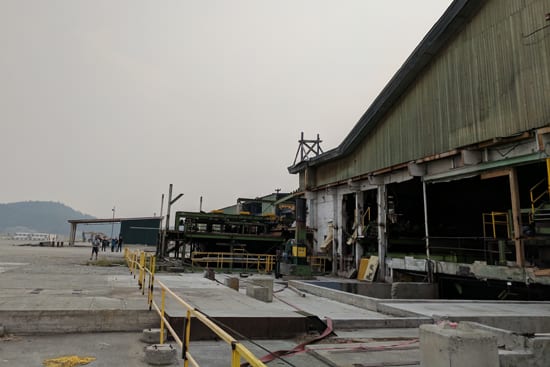 For Mike Kruk, PodTech's site general manager, it's been the perfect fit. He moved from Houston, B.C., this past July with his wife and eight- and 10-year-old kids, and hasn't looked back.
"My wife and I both grew up in small towns, we're used to it, and we like it. Everyone who's moving is as excited to be part of the revitalization as they are about the work."
In true Canadian form, Mike points out what to him is the first big sign of the community growing – the return of a junior hockey team.
---
This blog post is part of an ongoing series focused on the technology sector in the Kootenays. It is supported by Kootenay Association for Science & Technology and Imagine Kootenay. Read the next post in the series: Fernie tech company CEO uses A.I. to boost mining industry.