A new coworking space in Invermere is the brainchild of LinkedIn telecommuter Megan Adams, who recently moved to the Columbia Valley from California only to discover that working from home wasn't satisfying her desire to connect with her new community.
A marketing professional with a passion for technology, Megan had found herself in this situation before when she was a solopreneur with a successful marketing practice in Calgary. Feeling isolated in her home office and struggling to feel professional while meeting clients in coffee shops, Megan decided instead to take advantage of her dual citizenship and swap entrepreneurship for a full-time position with eBay in California's Silicon Valley as part of a team working on a start-up app. It was in this environment that Megan became exposed to the innovative design of the working spaces at nearby companies like Facebook and Google that were all within walking distance.
"I was getting more and more inspired by the design and observing how a lot of those spaces weren't being used," said Megan. "I thought how cool would it be if someone like myself could work in that space and how creative, productive and inspired I would feel."
When her next career opportunity presented itself as a remote author teaching LinkedIn's online marketing courses (previously Lynda.com), Megan found herself back in a home office and missing the creative team dynamic.
But the idea to open a co-working space didn't get planted until she made a trip to Invermere last Christmas to visit her sister who had recently relocated from Calgary. After falling in love with the town and local lifestyle, Megan decided to make the move.
"I was now in a new place, in a new country, with networks in Calgary and California, but I didn't have anyone in Invermere who I could bounce ideas off of or go to coffee with, and now I'm working from home again," she said.
Grappling with how to form a professional network, Megan went on an office space hunt and came across a location that her sister suggested would be perfect as a co-working space. The Mountain Hub idea was born and after surveying over 200 people, Megan learned there was indeed strong local interest in co-working and in the location in particular — on Invermere's Main Street. Taking a leap of faith, she signed the lease April 9.
"Ever since I physically moved into the space and put up the sign, the amount of people walking through the door, stopping by, emailing me, has been incredible. I couldn't have known that. You almost have to make a commitment before all that momentum flows in."
Opting for open-concept with a bright and cheery décor that blends funky with industrial, Megan wants a work day at The Mountain Hub to feel like a productive day at the coffee shop without all the noise and distraction that goes along with it.
"The key word is adaptable," she said. "I want it to be vibrant, I want it to be full of discussion and collaboration… I know it's going to be great networking for people."
The Mountain Hub offers a variety of membership rates based on frequency of usage. Members will have access to the shared co-working area as well as a kitchen, relaxation lounge and washroom. Available as short-term rentals are four private office spaces of varying sizes that include a boardroom complete with a whiteboard and flat screen TV with computer hookups.
Members will also have access to the print services thanks to a collaboration with local business Palliser Printing. Owner Dee Conklin had been wanting more of a downtown presence and is thrilled about the strategic relationship she's forged with Megan.
"The minute I met Megan I knew I wanted to partner with her in the area of my expertise," Dee said. "Palliser Printing will be there for both her and her customers, whether it be on or off site. I am truly excited to be working alongside her."
Megan's entrepreneurial spirit is a perfect fit for Invermere, according to Columbia Valley Chamber of Commerce executive Director Susan Clovechok, who can relate to Megan's decision to relocate.
"I remember the first time I ever drove into this valley, I felt a strong connection," she said. "That's why I moved here. There was something that drew me. Megan is the kind of entrepreneur we're trying to attract more of, someone who feels they need to be here and figures it out."
Wheelchair accessible and pet friendly (dog interviews will be required), The Mountain Hub will be open for co-working during regular business hours, Monday to Friday, 9 am to 5 pm. On Saturdays during the summer, a Mini Mountain Market Pop-Up will take over the space, and Megan hopes to see the hub hopping with workshops, classes and special events in the evenings and on weekends.
Rates and details are available on the website. Visit www.mountainhub.ca to find out more.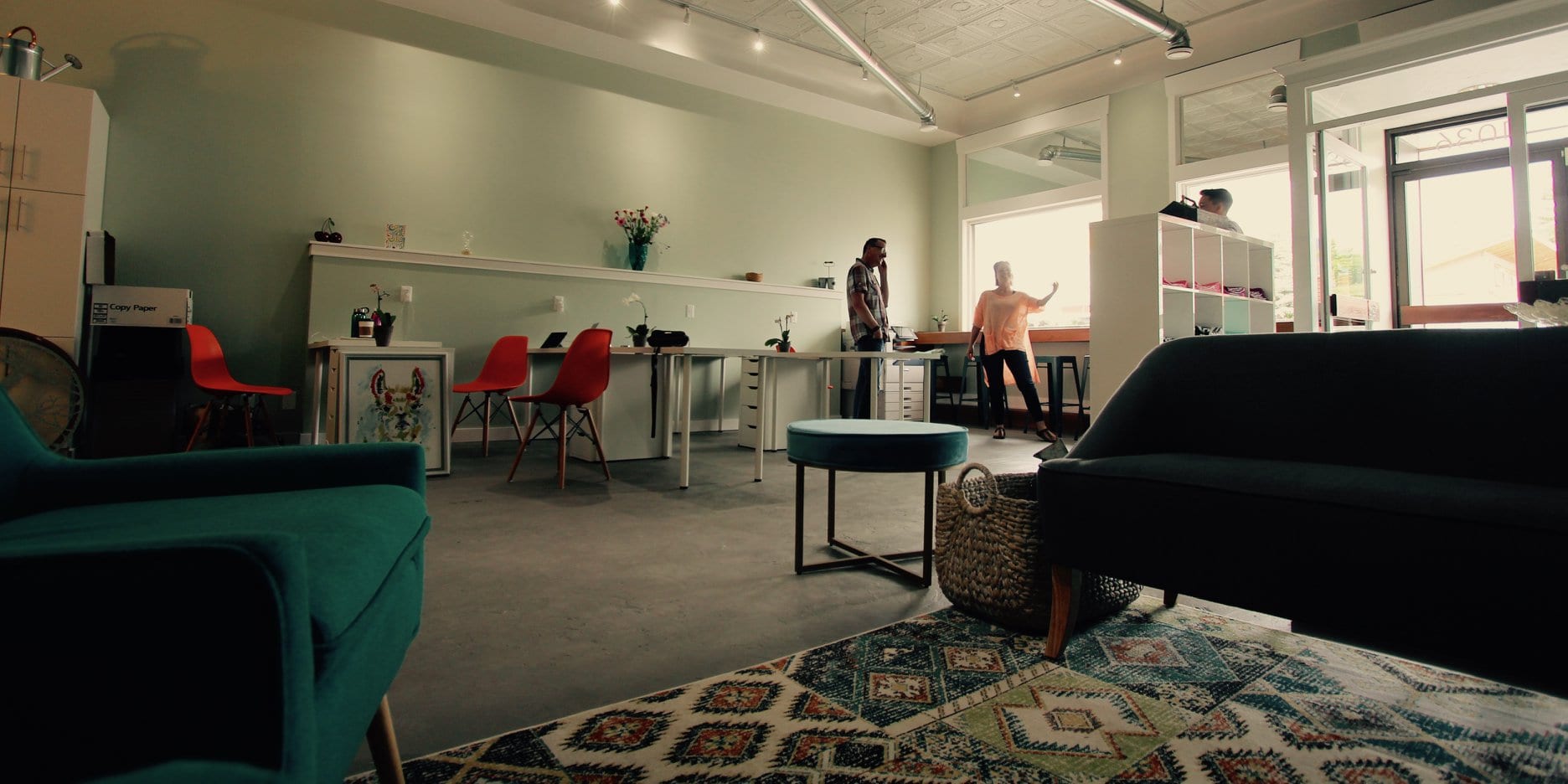 Photo Credit: Ryan Watmough