If you're going to uproot and relocate to a new town in a new province, do it with all your heart. That's the message from Scott and Alycia Weir who fell in love with the Kootenays and moved to Golden to build the life they want in the small town.
Originally from Alberta, they bought land near town in the hopes of settling in the East Kootenays. They got married in Golden in 2016 and Alycia took a job managing the Visitor Information Centre in 2017. They bought Kicking Horse Janitorial late last year, and they are now fully rooted in the Kootenays.
"I've run businesses in the past and have worked with entrepreneurs for years, so we were looking for an opportunity to take over something here to replace my existing job. The cleaning business fit that bill and allowed us to pursue some of our other goals," Scott says.
He was working for a large financial corporation when they moved to Golden, and he brought his job with him. It meant a lot of commuting, which was challenging during the winter. Perhaps fittingly, he worked for a large company advising small businesses.
"That allowed me to see what the ones that are succeeding are doing right, and what the ones that aren't succeeding are doing wrong." That experience helped him sharpen his focus on what he was looking for in the business he would buy.
Scott credits Imagine Kootenay as the resource that helped make that happen. He checked the website each week, and while he saw Kicking Horse Janitorial was for sale, at first he didn't give it much thought. Then he heard a few good things about the company, which had been in Golden for 10 years, so he contacted the owner, and their conversation gave him the confidence to pursue it.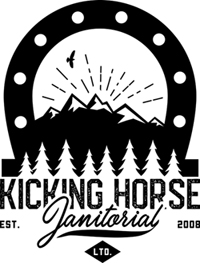 He took over December 1, 2018.
"We want to create a company where people can work hard and get paid well enough to live. Right off the bat we started paying $19 an hour with benefits," he says. "It helps us have committed, long term employees. We try to be a good employer."
They have two employees and will be hiring a third. Scott manages the company, conducts the training, and steps in to do the cleaning when needed.
Despite having run other businesses, this is his first experience taking over an existing business. He says it's been quite different from starting something new. That's where he also sees the value of Imagine Kootenay.
"I've become a real advocate for Imagine Kootenay. The job ads, the businesses for sale, and the stories in the blog, they're a great resource for anyone interested in doing business here."
Scott and Alycia are all in. They've found a town they love in an area that offers them everything they want. Finding a welcoming business climate to help them get established and set down roots made it that much easier.