In 1992, 23-year old Elana Rosenfeld and her then partner Leo Johnson moved from an established tourism-based community in Alberta looking for an opportunity to start a business and create the mountain lifestyle that they had come to love in communities such as Jasper and Banff. They found the opportunity to get in on the ground floor in the Columbia Valley through a seasonal fruit stand that was a great success. Seeking a year-round venture to sustain their mountain lifestyle, they next purchased Smoothies (and created the Blue Dog Café) and after several years of hard work and success, sold the restaurant and took a year to travel, dream and plan. The dream and plan is now called Kicking Horse Coffee – an often told success story by national publications. Kicking Horse Coffee (est.1996) is the quintessential Columbia Valley success story; growing from humble beginnings as a home-based business providing locally roasted, organic, fair trade coffee to local restaurants and grocers to what is now an internationally recognized brand known for their high quality product (Canada's #1 Organic Fair Trade Coffee) and a high level of social and business ethics.
The company faced some challenges along the way. Limited commercially-zoned land and reluctant lenders who didn't understand the business model created some early hurdles. Being located in an area with a growing tourism industry and historically a resource extraction based economy, there were few resources for a manufacturing and distribution business. Driven by a passion for the product, determination to succeed, strong values and a keen interest in business, the partners of Kicking Horse Coffee took calculated risks. They have reinvested in their business seven times and are committed to continuing to reinvest as the market and opportunities dictate. They have built an international distribution system through forming strategic partnerships and built a 60,000 sq ft world-class manufacturing facility on the Shuswap Indian Reserve and now currently employ 100+ people right here in the Columbia Valley.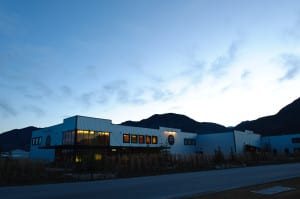 Elana Rosenfeld emphasizes that the success of Kicking Horse Coffee is directly attributed to not only determination and passion but the awe-inspiring support of the locals who are their customers, employees and contractors. "We have been blessed with great local support and the fact that all the talent, experience and skill we need to operate our business exists here in the Columbia Valley and we are proud to provide all our customers with a glimpse of the Columbia Valley through our products." Kicking Horse Coffee is indeed the perfect example of where opportunity meets lifestyle.