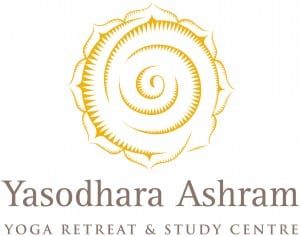 Yasodhara Ashram is a yoga retreat and study centre located in Kootenay Bay. Founded in 1963 by Swami Sivanada Radha, the non-profit Yasodhara Ashram offers a wide range of yoga programs year-round – from a three-month intensive, to private retreats, teacher certification and introductions to yoga. Over 1,000 visitors pass through the Ashram each year.
A cornerstone of the East Shore Kootenay Lake community, the Ashram is an important employer and partner in community economic development of the East Shore Kootenay Lake region. The Ashram hosts free community events several times a year, including the Strawberry Social, which attracts more than 300 people and showcases community bands and choirs. Yasodhara Ashram sets their goals based on a quadruple bottom line: spiritual, social, environmental and economic. They recently met their carbon neutral goals in the fall of 2012, and have set new objectives to facilitate improved broadband and alternative energy infrastructure in the East Shore region.
Paris Marshall Smith is part of the next generation of leaders at Yasodhara Ashram. "The East Shore Kootenay Lake region is a generous and inviting community with an incredible diversity of talent. Our success has been dependant on our community relationships and support, and we see our future success linked to becoming increasingly involved in our local community." says Paris. "The advantage of the Kootenay Bay area is that it provides a beautiful retreat for our visitors and students, yet is still connected to the global community."
Marking their 50th Anniversary in 2013, Yasodhara Ashram's ventures reach beyond BC's borders – the Ashram is the hub of a network of urban teaching centres (www.yasodhara.org/find-a-yasodhara-teacher-near-you/ ), and the home of Timeless Books, (www.timeless.org). They are recipients of the 2009 Environmentally Responsible Tourism Award and 2008 FortisBC PowerSense Conservation Excellence Award.