You've finally taken the leap and cut the umbilical cord to the office. Or you just started your own business. Either way, here you find yourself — with the freedom to work from anywhere, and all the confusion that comes with it. Welcome to the swell of workers that economics experts everywhere are predicting will make up the majority of the workforce in the next 10 years. If, like most tech-enabled workers these days, you toil by laptop, you'll no doubt start your foray into this newfound freedom by frequenting coffee shops. But this gets expensive and over-caffeinated. Next, you'll make work dates with friends at their place or yours. But gossip or kids will take over the day. You might eventually set up a home office instead. But then you'll find yourself doing laundry rather than your yearend; and then rapidly getting tired of never leaving the house.
For a great many independent earners, co-working spaces have become the answer to the sometimes isolating and distracting side effect of working remotely. Humans are social beings, and studies have shown we do better in collaborative environments that hum with a collective vibe. Co-working spaces do exactly this, providing the social lubrication of colleagues, the energetic thrust of a working atmosphere, and the support of a community — all without a boss looming over your shoulder!
Here are five co-working spaces to rent a desk at in the Kootenays this spring.
1. Mountain CoLab, Revelstoke
With over 70 active members frequenting this downtown Revelstoke locale, Mountain CoLab offers 24-hour, seven-days-a-week access at incredibly affordable rates — starting at just $65 a month for unlimited access. This user-owned cooperative (only $5 to become a member), with free printing, coffee and mountain-modern décor, is a prime spot for hot desk use, to rent a dedicated desk, or even an office. With all members owners, it keeps as its core ethos the ideas of inclusiveness and collaboration. Revelstoke's growing international appeal to adventurers worldwide means you'll find long-time users, full business teams, and seasonaires alike to mix with. It's easy place to find ideas, and ski and mountain bike partners.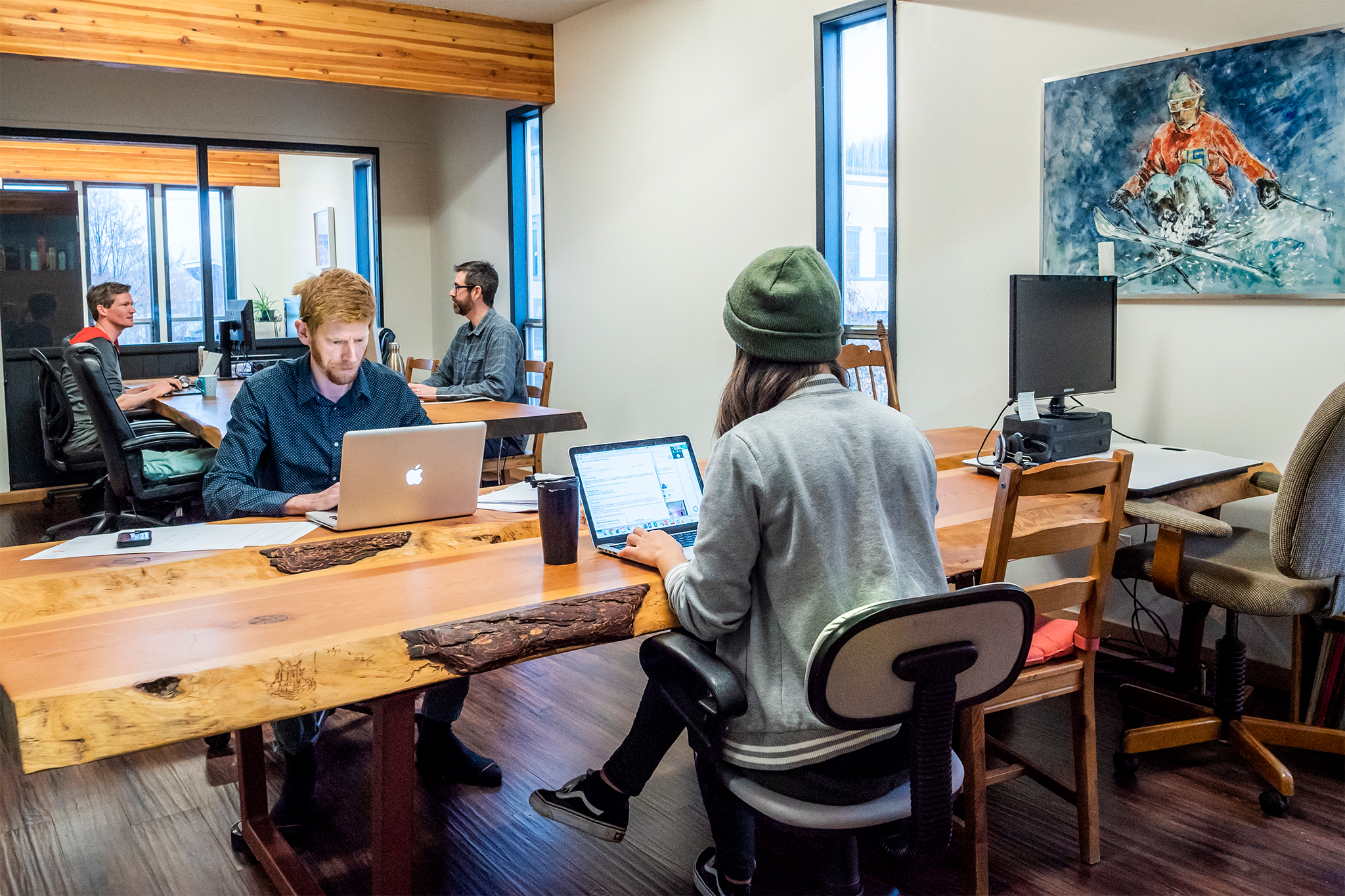 2. The Jam Factory, Nelson
Taking over a historic building that used to be, you guessed it, a jam factory, this space is just a snowball's distance from historic downtown. The Jam Factory features everything you'd expect from the funky centre of the Kootenays: daily meditation, yoga and a reclaimed industrial vibe. The Jam Factory comes complete with a kitchen and lounge area. With regular dedicated users make up more of the patronage, a limited number of hot desks are available per month, but you're exceedingly welcome if you can snag one. Nelson being a place famous for its liberal principals and permissive ideologies, dogs are of course welcome too.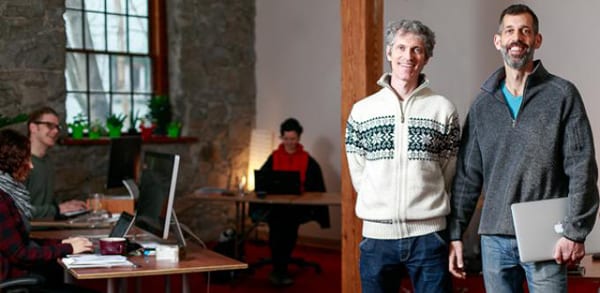 3. Ground Floor, Cranbrook
One of the most professional spaces in the Kootenays, basking in the "sharing economy," Ground Floor has a tier of membership for every level of business. You can receive your mail here, work in the hot desk area as a startup, or base your full team in an office. Ground Floor has a receptionist, a recording booth (make your podcast here!), private phone booths and a kitchen. Built into an atrium, enjoy the overhead space to grow, the attention to every detail, as well as the impressive pricing for those just starting out.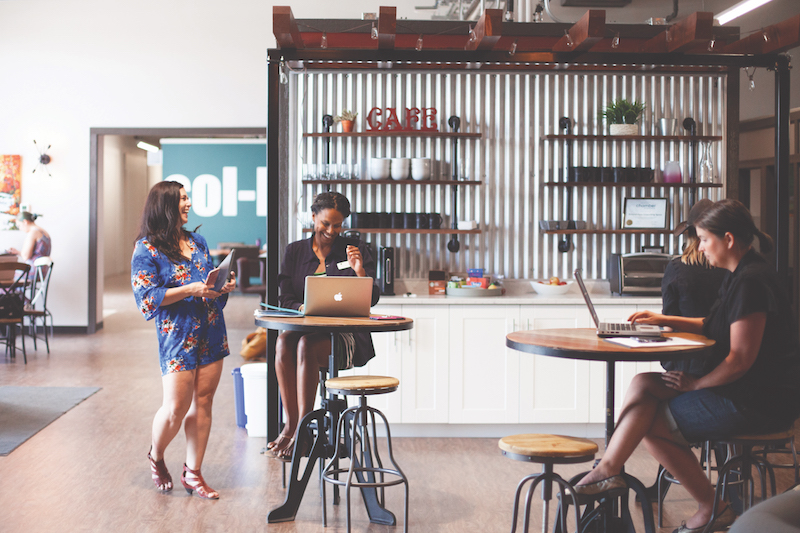 4. The Mountain Hub, Invermere
Launched almost a year ago by marketing professional Megan Adams, The Mountain Hub holds as its core mission exactly what's in its name: to bring disparate people together in a single location to collectively boost each other's work. It's a bright open space in which to network, or plant your butt and power through this week's metrics report and strategy updates. With the feel of a modernist boutique, the open-concept design is sure to inspire creative thinking whether you're dropping in, using a hot desk, or working full-time just a few steps from downtown Invermere's best cafés.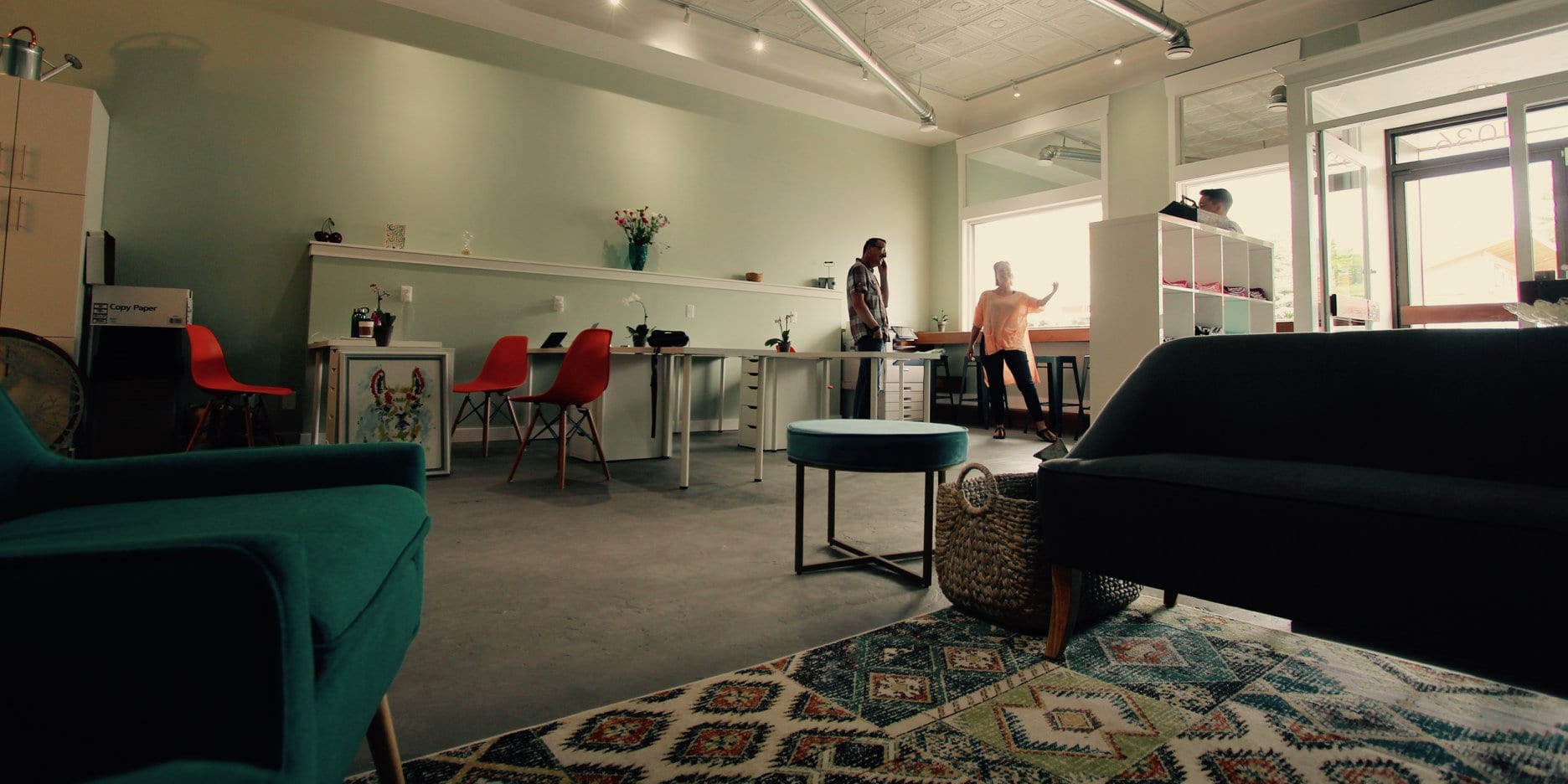 5. LIFT, Silverton
What's more social than a society? Nothing. So how about a not-for-profit society for co-working planted in a famous pink heritage building on the shore of Slocan Lake? LIFT is an upcoming co-working space looking to open its doors as soon as it can. The Silverton Co-Work Society brings together best and brightest minds of the Slocan Valley in an effort to amplify and empower the idyllic valley's growing population of urban refugees and remote workers. They're currently fundraising to renovate space they've secured above the old general store, where there used to be an iconic industrial elevator right in the middle of the building—or, as they say in the Old Country, a lift. Join this ambitious team as they plug into the planned fast internet coming to the valley soon.