Bad Duck Caramel is a passionate family business with an important mission – to provide candy lovers with magnificent caramel. They believe the best food is made with great ingredients you can pronounce, by people you know, and in small batches. They offer 4 different flavours – traditional, salted caramel, peppermint chocolate pep chew, and their newest – coffee caramel. Their goal is to have enough money to live on as a family, and bring money from the outside to the Creston Valley-Kootenay Lake area.
Having grown up in Alberta, Carmen Ditzler and Greg Perry are farmers and entrepreneurs at heart. They owned and operated a few businesses before Bad Duck Caramel – one being a hydroponic tomato business west of Calgary. One day, they decided to sell everything, put remainders into storage, and take their two children on a road trip down the West Coast. Having this break allowed the Ditzler family to discover inspiration for their next business adventure.
The inspiration started three generations ago with an original caramel recipe and a love for food. Carmen grew up next door to her late grandparents, Gertie and Chum. They were farmers, hard workers, big laughers, and shared a passion for real food. They taught Carmen to make the caramels their way – old-fashion style. This included butter, milk, sugar and other ingredients you can articulate. This knowledge sparked the idea to embrace her family heritage through caramel production.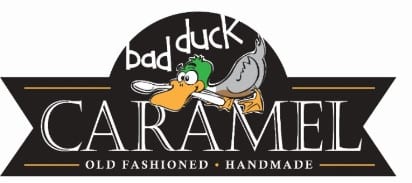 In 2013, the Ditzler/Perry family officially decided to relocate to beautiful Wynndel, BC. – a picturesque village with a wholesome, congenial lifestyle within the Creston Valley-Kootenay Lake area. The decision to live in the area was quite simple. It meant close proximity to loved ones, access to a selection of wholesome foods, lower cost of living, and a quiet environment away from the city. As well, the location provided a supportive environment for these entrepreneurs to shine.
Setting up the business in Wynndel had its advantages. First, regulations for operating within the regional district was minimal; compared to regulations and standards within larger centers. Second, the cost of living made it much more affordable for entrepreneurs to start and maintain a business. Being able to host their commercial kitchen in the basement of their home created a positive work/life balance for their family.
To get started, Carmen and Greg attended a HACCP program. Once a month for a full year, Carmen would travel to Nelson to become HACCP compliant. Even though the process was onerous, the benefit was completely worth it. When finished, they were able to open more doors to grocers and other wholesale locations to showcase and sell their caramel. Right now, they are approaching 100 different retail locations. As well, they had matching funds to upgrade their kitchen equipment and complete in-house water treatments.
Like any business, there are hurdles to overcome, problems to solve, and opportunities to chase. Having the opportunity to chat with Carmen, she was able to express the behind-the-scenes work of their caramel business.
Hurdle #1 – their main target population is 8 hours away. "Even though Creston Valley-Kootenay Lake residents are great cheerleaders and supportive, the population base is not large enough to fully meet our financial goals. The persistence to move our product into retail locations further afield has been essential," explained Carmen. "Greg went on a road trip to 17 different IGA locations to introduce our caramel line. All said yes to our product. However, if he wouldn't have went in person, our product would probably not be displayed on their shelves."
Another struggle is the current grocer market being disrupted. "Grocery shelves are saturated with so much selection, and many well-known brands are not made of real ingredients anymore," said Carmen. "I think people are starting to wake up; products they have always eaten are not actually that good. If they eat something real (like our product), they'll find it's really delicious."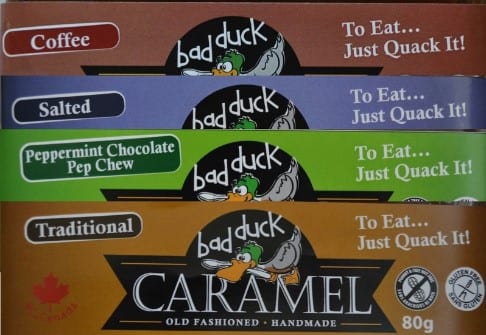 On the flip side, local farmers markets and festivals are a great way to advertise the product and have locals enjoy their tasty creations. Carmen loves The Hills Garlic Festival in New Denver, BC. "It is fantastic! Every year, attendees from all around want to buy multiple bars and give them away to people they know. It's a good test to see if people like our product. If we only went local, we wouldn't have a good perspective of our whole market."
Their typical customer is no surprise (to me). "Men and children like it, but women LOVE it!" laughed Carmen. "We have women hold onto the table at the farmers market because they are weak in the knees. Noticing the effects, their husbands are quick to purchase our product!
"Overall, many taste our caramel and reminisce about their own mother or grandmother's caramel. It brings back memories for them."
For Carmen, her memories are still of her Grandma Gertie – the original creator of the caramel recipe. "She was 98 when she passed away in 2006. She didn't get to see the business, but she would totally dig it and be so excited! My grandpa would be more excited, because he would get to eat it."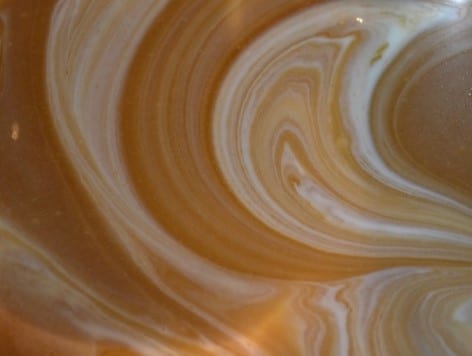 Based on family history, it's apparent being an entrepreneur starts at a young age. "Since my first job of raising, slaughtering, and selling chickens to my family at the age of 8, I have been taught and inspired to be an entrepreneur." The idea for turning a family treat into a business began with Greg and Carmen's children. "At 8 and 10, they wanted to sell at a Christmas market. They helped through the entire process of pouring, cutting, and wrapping, and sold 1000 caramels at the market! Greg and I were shocked. This moment solidified we have a product that people really enjoy."
In the Spring of 2017, Bad Duck Caramel traveled to Vancouver to the Grocery & Specialty Food West (GSFW). This trade show included a Top 10 Most Innovative Product judging session that featured local food experts who anonymously evaluated a series of products from the New Product Showcase. Products were chosen based on criteria, which included: packaging, overall innovation, originality and (use) benefit. Bad Duck Caramel was chosen in the Top 10 out of 375 eligible products; amongst big players, such as Maple Leaf and Heinz. It's truly inspiring to see what Bad Duck Caramel achieves in the future!
Below are some of Carmen's valuable insights about investing, working, and living in the area:
Working as an entrepreneur: "I love working for myself, but it's probably the hardest work I have ever done. Being your own boss means your own money and reputation are on the line. But, I love doing it because I get to witness the fun and pleasure our product brings to people."
Living in the Creston Valley-Kootenay Lake area– "I really like the environment here – the nature, the weather, and growing food in our backyard. Most days, we stand and watch the bird feeder as we are stirring our caramel. Our fishing boat is at Kuskanook Habour – which is 10 minutes away from our home. We are an area where anything we need isn't far away. People don't care what you do or how much money you have. You will find decent, like-minded people out here."
Message for entrepreneurs – "Business is not for the faint of heart. To grow, you have to be legitimate. In this area, there's potential to start in the farmer's market, surrounding area markets, and then grow from there. You have to adjust to a new pace. Be prepared for things not to happen so quickly. Being innovative and creative in problem solving is a must."
For those attracted to the area – "Decide to do it and then be relentless."
For more information about Bad Duck Caramel, please visit their website today!
---
By: Laura Heykamp
Creston & District Economic Action Partnership Assistant
Creston Valley – Kootenay Lake Contact